Doctorates are normally thought of as researchers. But then, doctorates take on various roles aside from doing research. This struck me again while visiting to the Institute of Transformative Bio-Molecules (ITbM). I had previously written about the significant success of the ITbM in carrying out research that merged together different disciplines focusing on "molecules." Such unique research efforts have been made possible by the participation of doctorates who are not directly doing the research, but work as equal partners with researchers.
Recent news often tells that circumstances around doctorate holders have been hard. At the end of February, the National Institute of Science and Technology Policy (NISTEP) of the Ministry of Education, Culture, Sports, Science and Technology (MEXT) released the Second Report on Japan Doctoral Human Resource Profiling. Among the wide range of findings in the report, which points out that employment of doctorates in the private sector is not growing and stable jobs are hard to get in academia, especially in physical sciences. Another data showed that around 60% of university-based program's doctoral degree holders, who are neither employed nor international students, are in debt from student loans and such upon completing their degree. Reflecting such reality or not, the enrollment on doctoral courses, which peaked at 18,232 in fiscal 2003, has dropped by more than 3,000 by fiscal 2016.
But there is no doubt that doctorates are so important to Japanese society as highly skilled human resources. We need to expand the platform for them to fulfill their potentials. One approach is to diversify the career paths of doctorates.
When I was covering science news in the U.S., I was surprised to see how doctoral degree holders exert influence, not just in the narrow sense through their research but in a variety of places, thinking "What a big difference with the situation in Japan!" From journalists to congress staff, in museums as well as in venture companies -- I met doctorates who work by leveraging their expertise everywhere. I heard that there are also doctoral degree holders in banks, for example, who diligently drop in on academic conferences to learn new research trends and apply them to making investment decisions, which made me wonder if similar things are happening in Japan. But then listening to their stories also made me realize the basic difference in doctoral education to begin with -- doctorates in Japan seem to be considered experts specializing in a narrow field while U.S. doctorates are thought to have 'broad' expertise with skills to tackle various issues.
ITbM's Designated Assistant Prof. Ayako Miyazaki obtained her doctoral degree in chemistry at Imperial College London in the UK and is responsible for public relations in Japan and abroad. Looking back on her student days in London, she says, "Doctorate friends went on to medical school or worked for the tube railway. Almost no one remained in the same course in the university." After returning to Japan, she worked at a manufacturing company, then became a Japan Science and Technology Agency (JST) research project team member and was doing research in the field of chemical biology before joining the ITbM. She also did some research initially, but now mainly works on public relations as balancing both became unmanageable.
Although she wanted to see her own research develop into something useful to society, Miyazaki felt that it was hard to get that sense of fulfillment from basic research, and felt attracted to public relations work because it involved social interaction while making full use of her expertise. She also wished to connect different cultures, after personally experiencing difficulties when she returned home from abroad at 10. She says there are many things people do not know -- the feeling of excitement that is possible in the world of science, the cultural differences -- and she hopes to make a career communicating and sharing these with the world. She felt sad moving away from experimental research where she could do hands-on work, and there was a time when she felt unsure of the future, but all that had been allayed after she made up her mind about her path forward.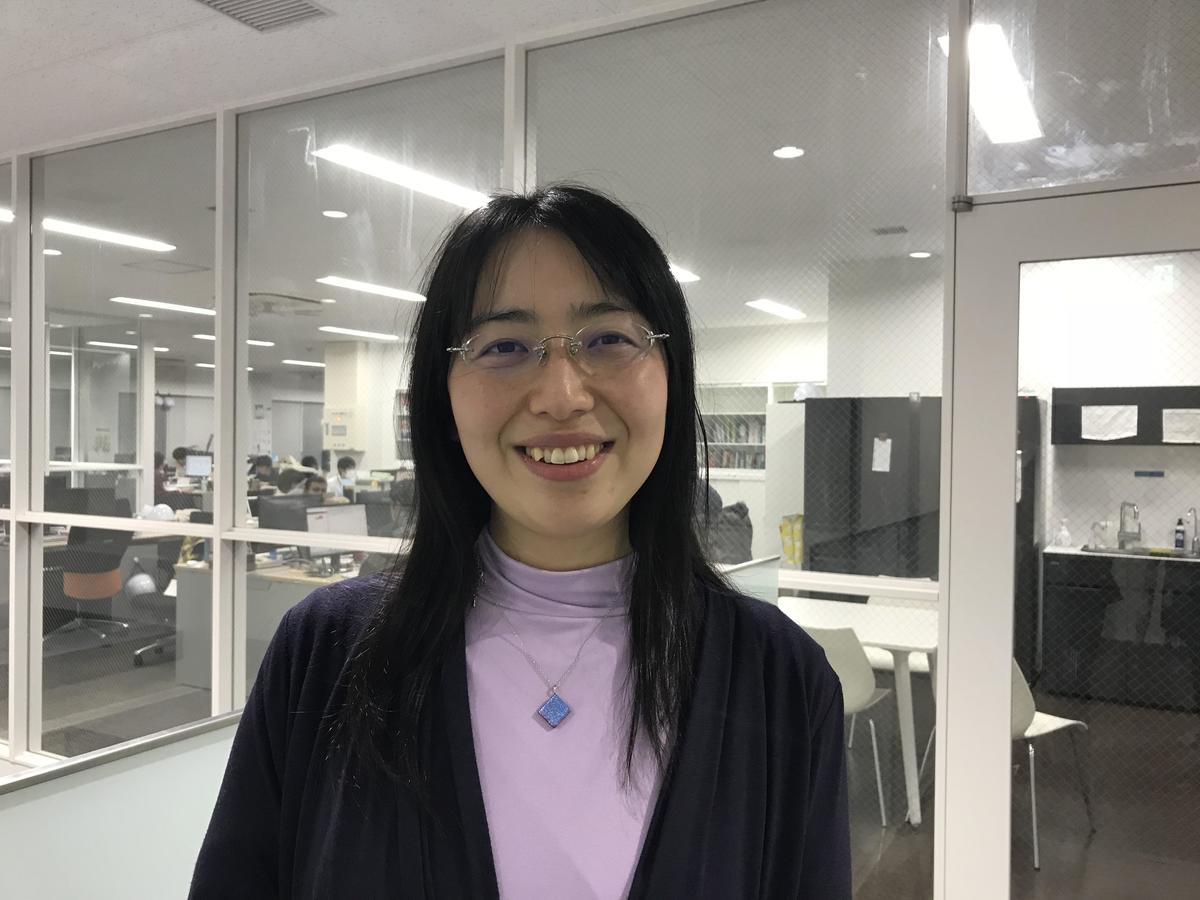 Designated Assistant Prof. Ayako Miyazaki is in charge of international public relations, among others
Miyazaki was invited to the ITbM by Designated Associate Prof. Ayato Sato, who was in the same JST project team. Sato is one of the top people who have done more to build the Institute to what it is today, according to ITbM Director, Prof. Kenichiro Itami.
Sato obtained his doctoral degree in natural products chemistry in Meidai and joined the JST research project at RIKEN after finishing a postdoctoral fellowship in Kyoto University. Then, he had a pivotal meeting with Itami at a conference party, which he did not even plan to go to. An old acquaintance from Meidai, Itami invited him to do research promotion work for a research center he was about to set up. In fact, the plan for the center was still about to undergo final screening by the MEXT, and nobody knew whether it will get accepted or not. Still, Sato promptly said yes. He himself was surprised by his quick decision. At that time, he was feeling lost about his career prospects and got interested in the new job, he recalls.
Research promotion in the ITbM means supporting researchers to develop their ideas until they can implement them in the real world. In addition to creating an environment where researchers can give their undivided attention to research, it also includes public relations. And by also taking part in basic research, the range of work seems wider than the so-called University Research Administrator (URA). When considering the framework for the new research organization, Itami thought that new job titles for people who will handle these responsibilities, which are neither researchers nor clerical staff, were essential. With the support of these people, who possess the mindset of researchers and also possess various skills outside of research, researchers can devote themselves to their work. Such people are especially needed when it comes to merging different disciplines, where a host of novel problems can crop up. Itami was convinced that such people will truly come into their own and be a vital part of the organization so long as they are provided the right environment. One of the persons he had in mind was Sato. And since they met by coincidence at the academic conference, he recruited him there, even though the center's application was still pending.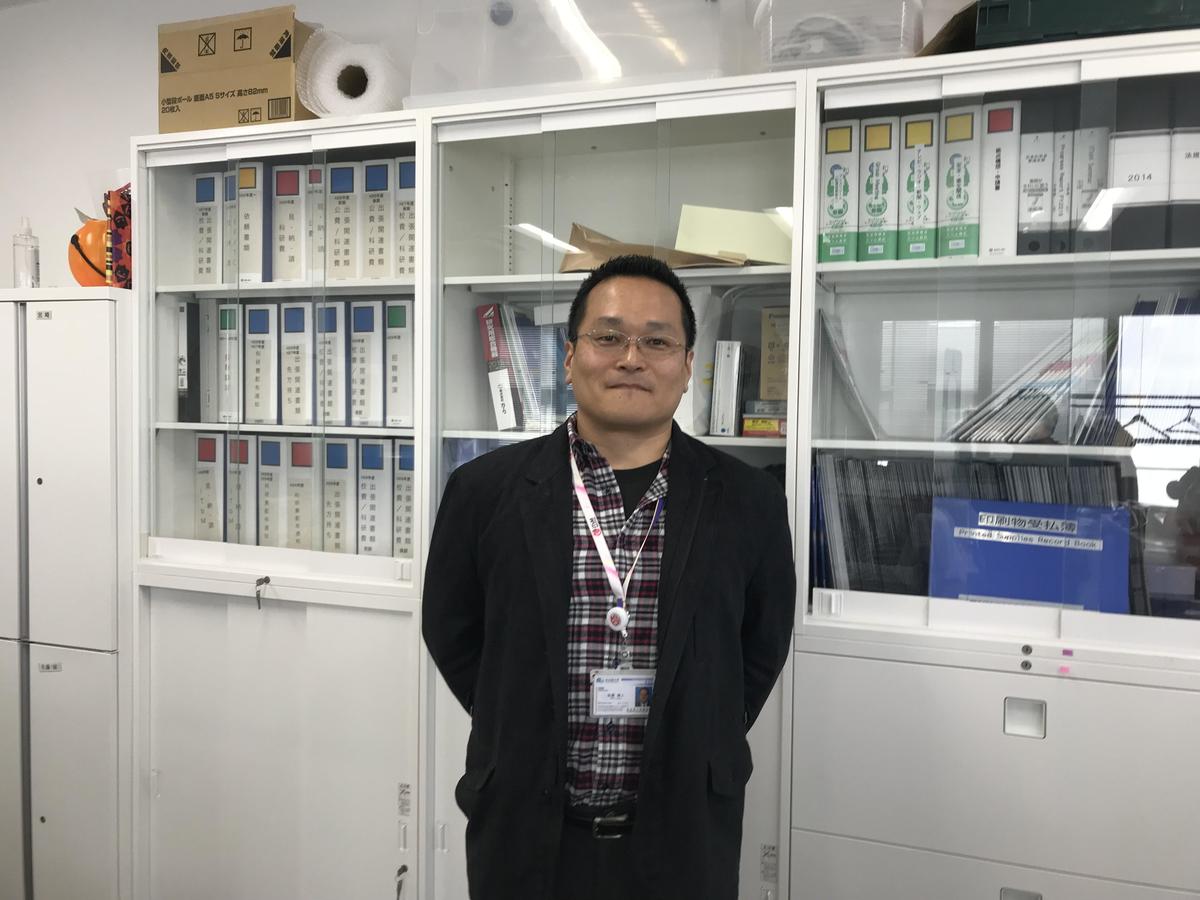 Designated Associate Prof. Ayato Sato, one of the busiest members as the head of the Research Promotion Division
From Itami's point of view, Sato has broad interests and a special talent for further broadening the flow of ideas while communicating them to people: "This is interesting, isn't it?" "What do you think about that? Will it work?" He can get the researchers around him involved, and was the ideal person to start something new that crosses disciplinary boundaries.
One characteristic of the ITbM is the mixed lab where researchers from different disciplines are under one roof. However, the reality is that they do not easily mix, as they come from different fields and with people from various countries. Sato set out to create an environment where the merging of different fields is encouraged by talking to people and providing research support. He exceeded Itami's expectations in fulfilling his duties as the head of the Research Promotion Division.
In addition, Sato had another mission entrusted to him by Itami -- to captivate biologists with molecules. ITbM's philosophy was to connect biology and chemistry by focusing on molecules. However, the biologists did not actually believe that the power of molecules was necessary for their research. Sato planned for each one to have their very own active molecule that matches their individual research subjects. By using these molecules and seeing how they work for themselves, he wanted to make them realize the power of molecules. Sato gathered all kinds of data on molecules with functions that may prove useful for their research and established a library center. His plan worked like a charm and the biologists were thoroughly captivated by molecules. As a result, the groundwork for interdisciplinary research at the ITbM had been established.
One of biologists who got captivated by molecules is Prof. Toshinori Kinoshita, who specializes in plant pores. Fully using the data of the library center, he started research to control plant pores with molecules. In early April he and Prof. Sato jointly published that their research team has discovered new compounds that can control stomatal movements in plants. The team also found that the compounds help plants to stay fresh longer when the compounds are sprayed on leaves compared to the control leaves. With its large potential for practical applications, such as boosting food production, maintaining freshness of cut flowers and many more, he is now partnering with companies here and abroad.
Meanwhile, in terms of administration of the Institute, Itami places all his trust and relies on Designated Prof. Tsuyoshi Matsumoto, Administrative Director of the ITbM. He was originally an assistant professor in the laboratory next to Itami's. He said he refused twice, but the consensus was on his extraordinary skills in office management and administration. All his objections were overcome until he finally could not refuse anymore when he was told "there's nobody else." In the beginning, he was told that working there for half of the day was fine, but of course that didn't work for long.
Moving away from research, "Half of me felt relieved of the pressure while the other half felt just a little unsatisfied, as I expected," he says.
Everyone unanimously agrees that his presence as administrative director who understands the psychology and behavioral patterns of researchers is extremely large. "I am good at providing direction and such, but I'm not good at putting things in order," Itami says. "Thankfully, I can devote my time to research. I truly appreciate it, as I'm someone who believes that I have no value without research."
According to Itami, the work of supporting research strategically, such as those of Sato and Matsumoto, will become increasingly more important. He hopes to see them play even larger roles in the future.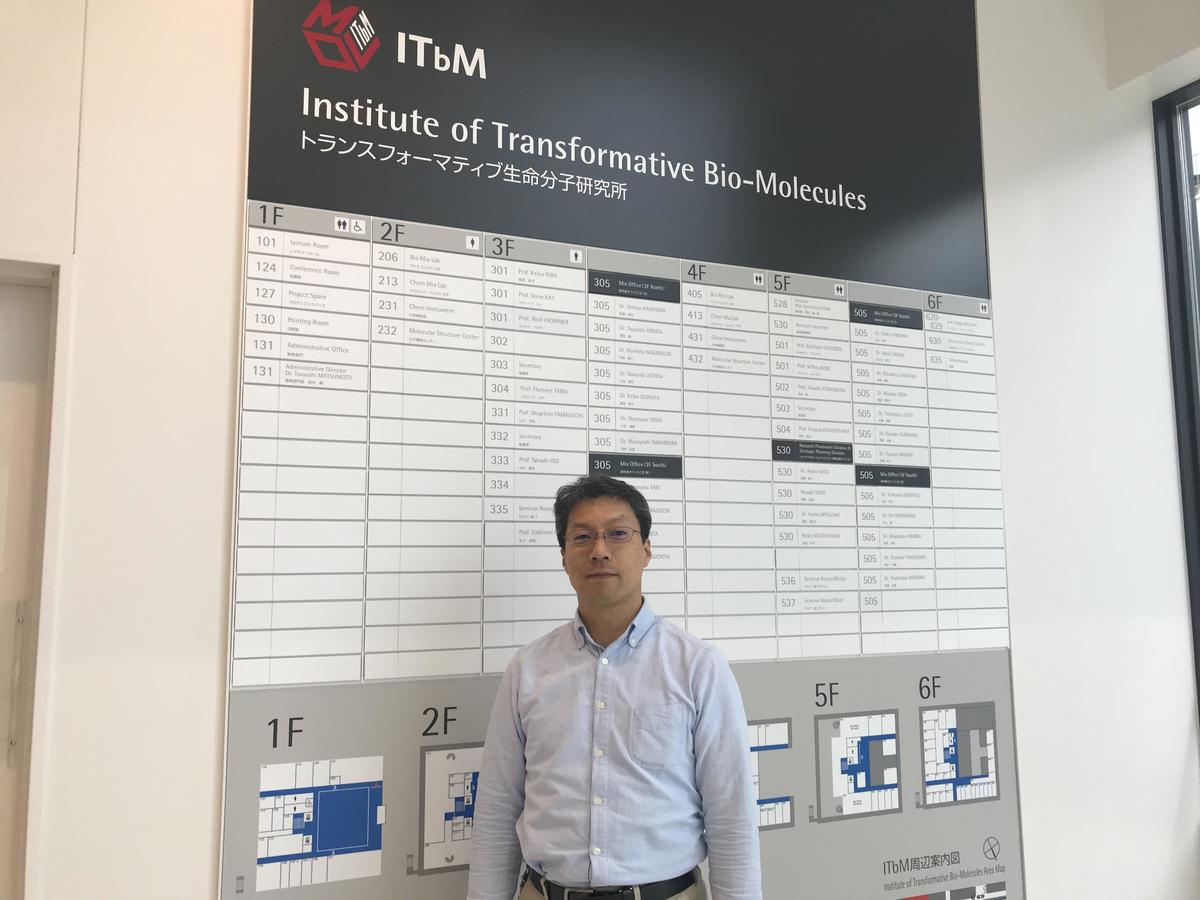 Designated Prof. Tsuyoshi Matsumoto handles the heavy responsibility of Administrative Director of the ITbM
For Itami, his relationship with Designated Associate Professor Masaki Sudo, who is responsible for intellectual property, corporate partnership and such in the Strategic Planning Division, seemed to be predestined. He was a classmate in the same research laboratory in Kyoto University as Itami. When the pharmaceutical company Pfizer closed the research laboratory in Japan, Sudo joined in the launching of the drug discovery venture company RaQualia Pharma Inc.; and since the company established an office at Meidai's Higashiyama campus, he would often drop by at the ITbM. One day Sudo paid a visit there to say that he will be moving to another company. It was about that time that Itami and other members within the Institute were considering hiring someone with corporate experience to form a bridge between the research accomplishments and the outside world. Intuition was telling Itami that nobody can do it better than Sudo. "Together, let's give it all we've got in our 40s!" Itami recalled telling Sudo to convince him to join. Sudo declined the job that was already waiting for him and transferred to the ITbM.
He now works on connecting ITbM researchers to companies in the world. As he understands what and how companies think, Sudo says he hopes to act as an interpreter, in a sense, linking companies to the university. He actually contributed to the partnership with companies for the practical application of pore research mentioned above.
Designated Associate Prof. Masaki Sudo, Head of the Strategic Planning Division
Another person with interpreting skills is Designated Associate Prof. Yoshikatsu Sato of the Live Imaging Center, who plays an important role for ITbM's most critical link between biology and chemistry. He studied biology at International Christian University, a university known for its liberal arts education, before getting a doctoral degree. His job here is to maintain the microscopes and other equipment for capturing the movement of molecules in a living organism and to support researchers from ITbM and across Japan in using them. He also works together with Associate Prof. Masayasu Taki, who was recruited to form a bridge from the chemists' side to biology, while Sato takes charge of receiving the work at the biology side. Their routine is to discuss work and other interesting prospects at the end of each day, as Sato always drops by Taki's downstairs office on the way home to talk about what needs to be observed for another interesting research and so on. This is exactly where many of new research themes at ITbM come up, some people say.
"Although research support tends to be seen as simply assisting in Japan, I'm happy to be of help in any way by thinking along with users to bring about good research," says Sato, "Meanwhile, I have my own research topics and I want to continue doing research even in a small way. Nothing compares to the joy of seeing a phenomenon that no one has ever seen before with my own eyes through the microscope."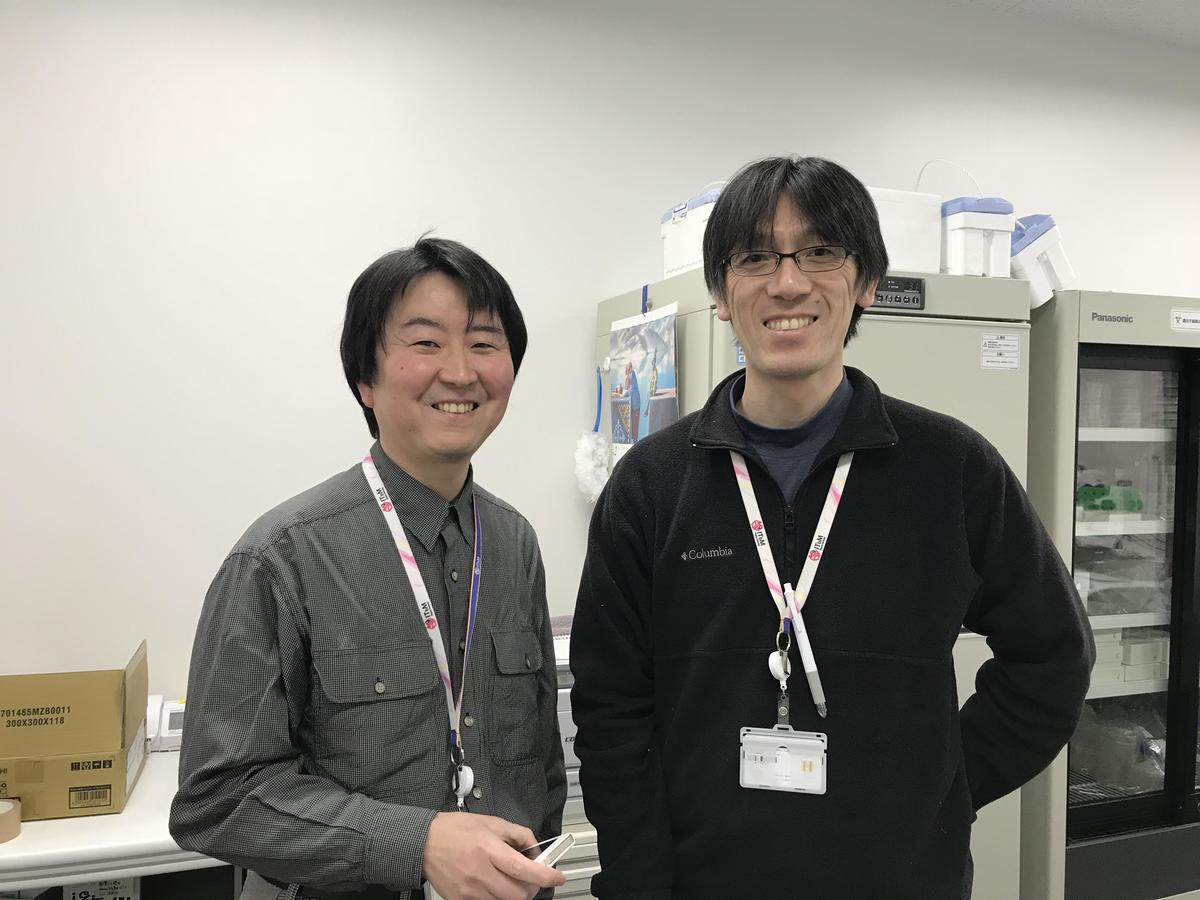 A great pair connecting two disciplines: Yoshikatsu Sato, biologist (left) and Masayasu Taki, chemist (right)
ITbM's unique cross-disciplinary research can only be made possible and is supported by the diverse work of doctorates who know how actual research is done. It also presents a new model of how doctoral degree holders can work. With the coming fiscal year, four years remain of ITbM's 10-year project period. I look forward to seeing how they will further grow the world that they have opened up in ITbM.