Professor Emeritus Yoichi Oda admits his prediction was wide off the mark ― and it makes him very happy. Oda is in charge of Nagoya University's Global 30 (G30) International Programs, which offer students degree courses taught entirely in English. The programs had embarked on a new project to encourage more Japanese students to take G30's English-taught classes. He had been pessimistic about the turnout when he held introductory presentations at the beginning of the fall semester on October 1. He was wrong. Around 70 students attended the two presentations, far more than he had prepared handouts for; a last-minute dash to the photocopier was necessary to meet the demand. Enquiries flooded in after the presentations, and around 50 students enrolled in the end ― more than three times the number he had hoped to achieve. The arrival of these Japanese students was also welcomed enthusiastically by overseas students in the G30 programs.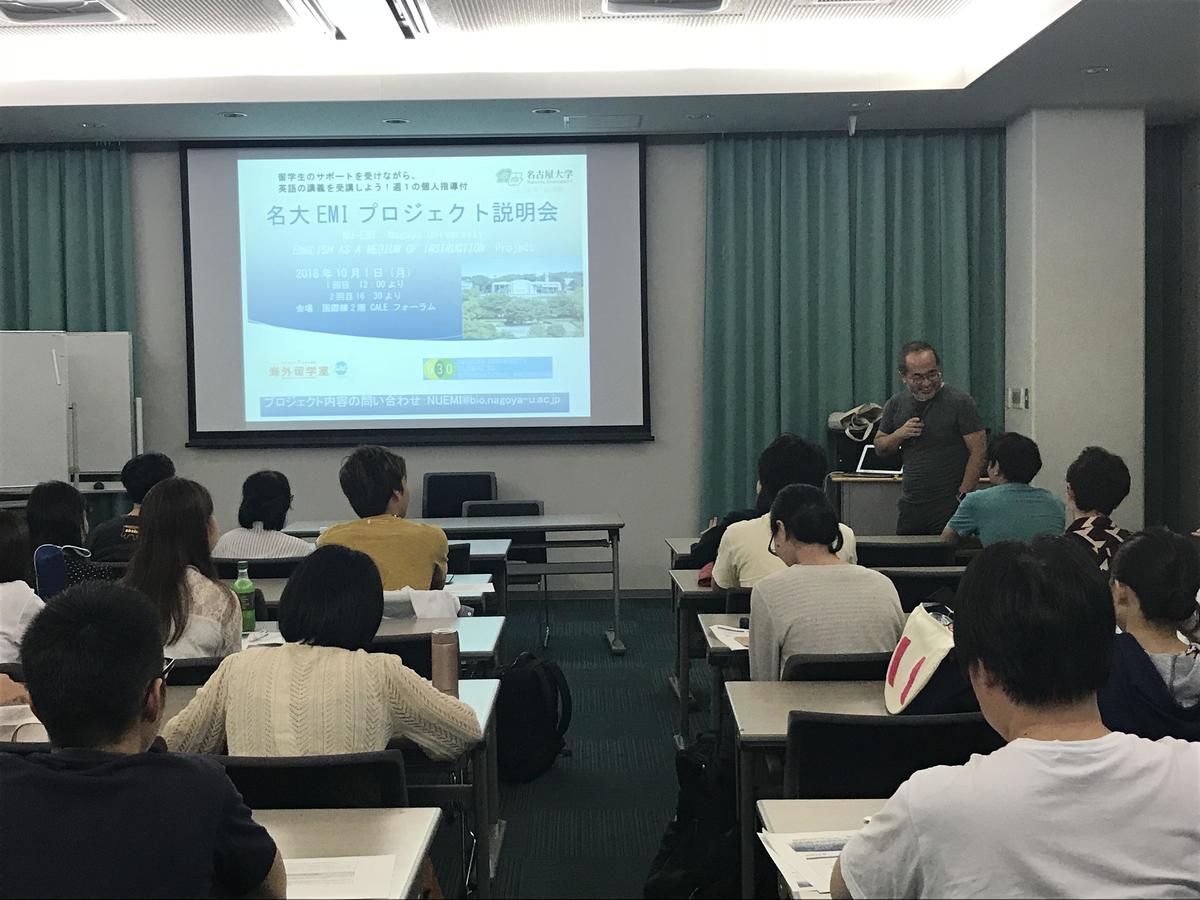 Study through English: presentations attracted many students.
G30 started as a government initiative; in 2008, then Prime Minister Yasuo Fukuda presented in his policy speech to the Diet his ambition to attract 300,000 overseas students to Japan. The Ministry of Education, Culture, Sports, Science and Technology (MEXT) responded the following year with the launch of Global 30, a project to establish a "university network for internationalization." The number of overseas students had passed the 100,000 mark for the first time in 2003 and, by 2008, had reached 140,000. The plan was to double this number in just over 10 years by 2020. Thirteen universities ― seven state institutions including Meidai and six private universities ― were selected to host the G30 programs. The latest figures show that 267,000 overseas students were studying in Japan in May last year.
Meidai's G30 programs started in the fall of 2011, when the first intake of students enrolled in undergraduate and graduate courses. The initial difficulties to get faculties to set up English-taught classes have been overcome, and there are 11 programs on offer today, including a unique Automotive Engineering program, along with physics, chemistry, biology, and humanities programs such as International Social Science and "Japan in Asia." In contrast to many of the other host universities that only run STEM courses, a distinctive feature of Meidai's G30 programs is the broad range of subjects available in English-taught classes, encompassing STEM, humanities and social sciences. Around 500 classes are offered in English at the undergraduate level, making up over 10% of all classes ― the highest proportion among all Japanese universities according to a 2016 survey by the Japan Society for the Promotion of Science.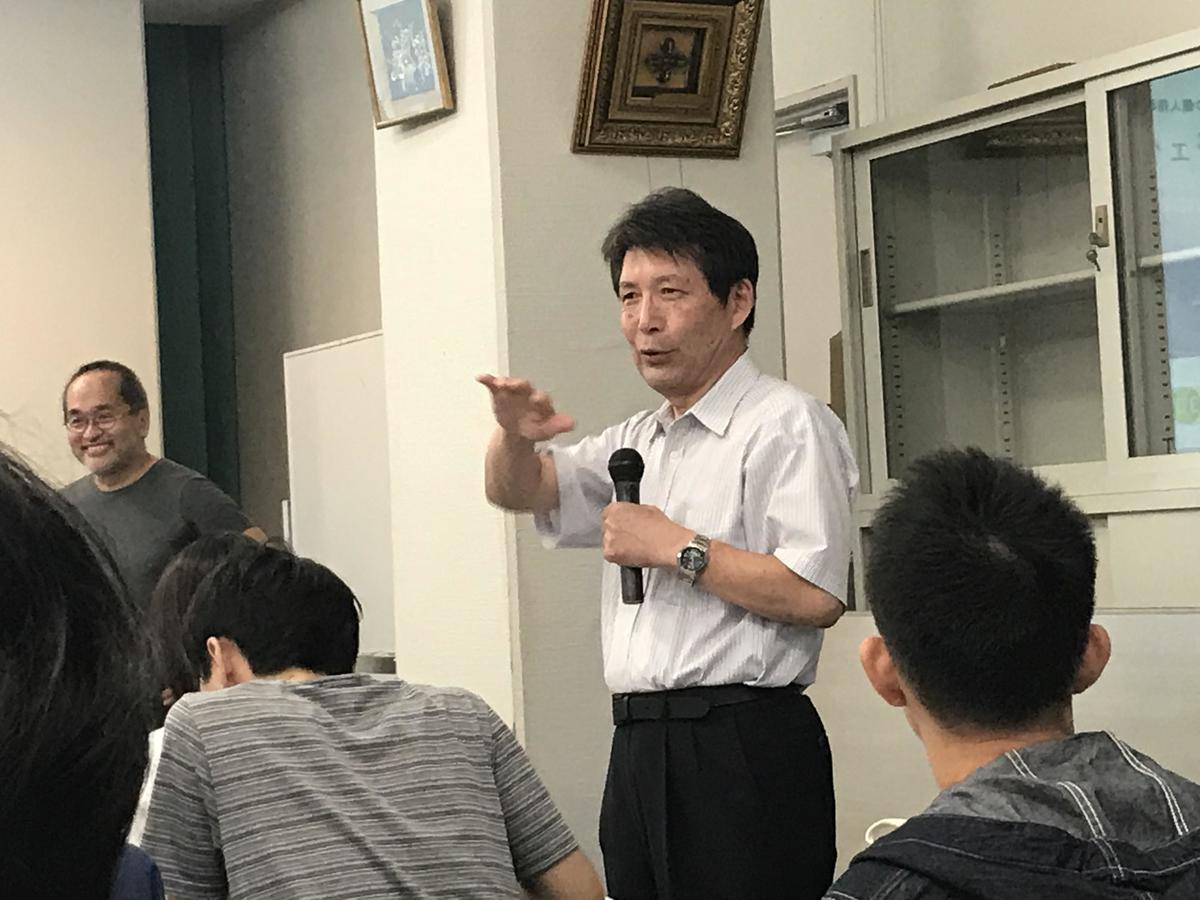 Professor Emeritus Yoichi Oda moved to G30 after retiring from research work at the School of Science.
MEXT's support for the G30 project ended after five years and, since 2014, it has been left up to each university to continue as it sees fit. Meidai is among the group of universities still actively committed to the original vision.
Why so much focus on G30? Because, explains Oda, the team wants the expansion of international programs as a driver for change in Meidai's whole educational endeavor.
This enthusiasm is reflected in the rapid increase in the number of applicants. In 2014, over 300 students competed for the 45-50 undergraduate places available; by 2017/2018, the number of applicants had reached 500. The increase can be attributed, first and foremost, to the active international recruitment drive by dedicated staff.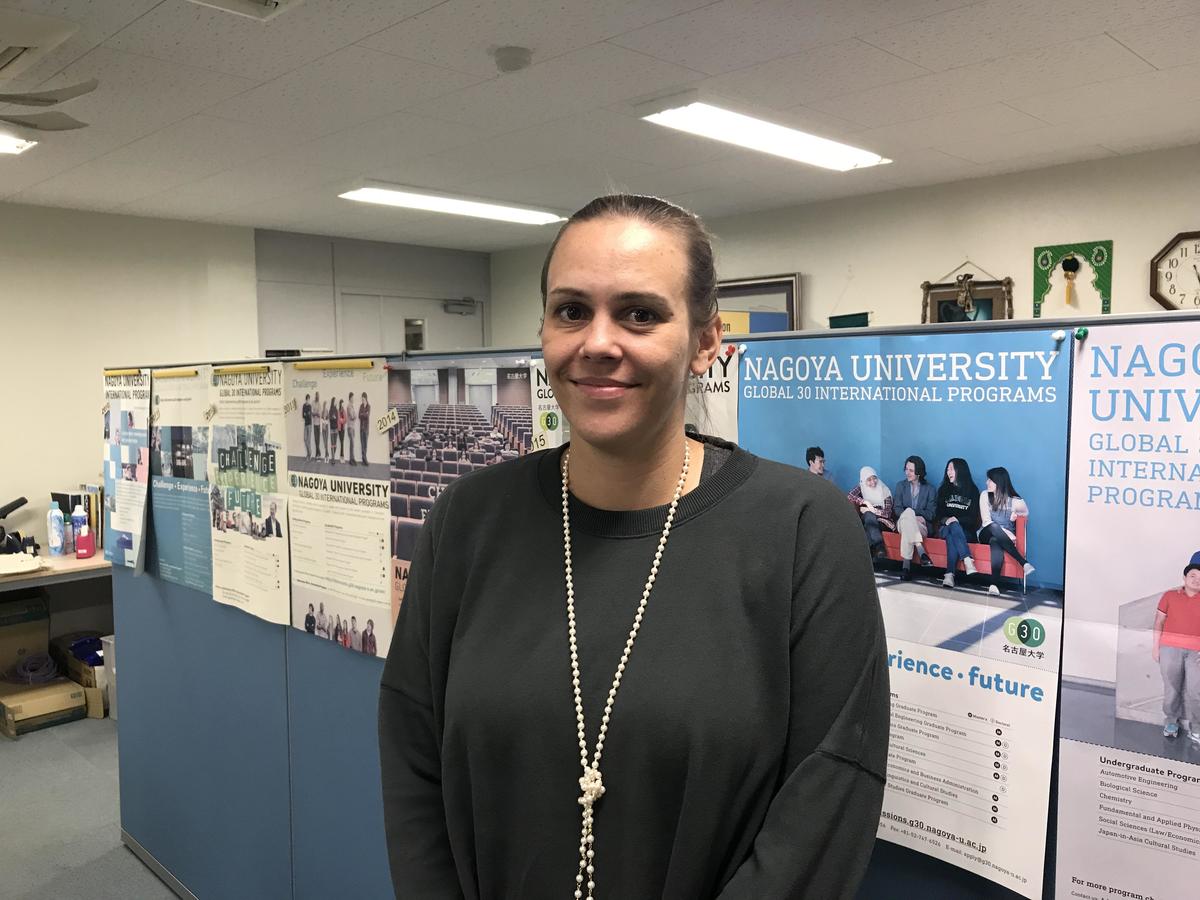 Marion Kinder from Admissions Office, International Programs. Having just returned from a two-month international recruitment tour, she is soon flying out again to Europe. From November, preparations for next year's admissions go into full swing.
In charge of student recruitment and entrance examination is Marion Kinder, Lead Academic Specialist at the Admissions Office, International Programs, who joined Meidai in 2009 after completing a Master's program at a German university. She is responsible for recruitment, exchange of information with international study counselors abroad, and the final assessment of application documents. Between July and November, she is seldom at her desk as she spends much of the period visiting high schools in Asia, Europe, the US and other regions around the world promoting Meidai's G30 programs. Although Nagoya University is relatively well known in Asia, it is virtually unknown in the US and Europe. Despite that, high school students and their parents can be persuaded by the idea of studying at Meidai when she tells them about the high level of research that has produced multiple Nobel Laureates, and the small classes with high-quality teaching through the medium of English. The considerably lower tuition fees compared to US universities are also a factor, but "I leave that point to the last as I don't want students to come to Meidai just because it's more economical," laughs Kinder. As the number of graduates from the programs grows, word-of-mouth is becoming another significant factor behind the success.
There is little wonder that the greater competition is raising the quality of students, but this is also helped by the careful selection process. Once the initial applications are whittled down to 1/3 through document screening, applicants are interviewed mainly via Skype. In the case of STEM programs, this interview takes as long as 45 minutes and involves each applicant being asked to solve mathematics, physics and other problems on the spot. This allows the examiners to assess the true ability of applicants and select the best. In some faculties such as the School of Science, overseas students outperform their Japanese counterparts.
At first the programs mainly attracted Japanese nationals living abroad, but the number of students from other countries has grown rapidly since. Last year's country breakdown showed Vietnamese students to be the largest group for the first time, outnumbering Japanese nationals, followed by Malaysians, Indonesians and Indians. Today, 80% of admissions come from countries other than Japan.
Students from the National University of Singapore (NUS) will come soon. Following the signing of an exchange agreement with Nagoya University in 2017, NUS sent out delegates for a preliminary survey, after which they decided to increase the maximum number of exchange students from two to three. "It seems that they were surprised and impressed by the range and quality of English-taught classes we offer," says Yoshihito Watanabe, Nagoya University trustee responsible for international affairs. NUS is ranked best among Asian universities in several university rankings and well known for its focus on improving performance. The NUS exchange program will no doubt serve as a good stimulus for change.
G30 produced its first graduates in the fall of 2015. What has surprised those involved in the programs is their level of success; every year, many G30 graduates go on to postgraduate study at top universities around the world, including the University of Oxford and the Massachusetts Institute of Technology. This was virtually unheard of at Meidai before. Around 60% of the programs' graduates move on to postgraduate education ― half of them staying at Meidai and the rest going to graduate schools at other Japanese universities or in other countries, including these top universities.
These international graduates are achieving these results after studying at Nagoya University, which, thought Oda, must mean that their success can be replicated among Japanese students. They decided that, in order to make it possible, they should open up G30 classes to many more Japanese students.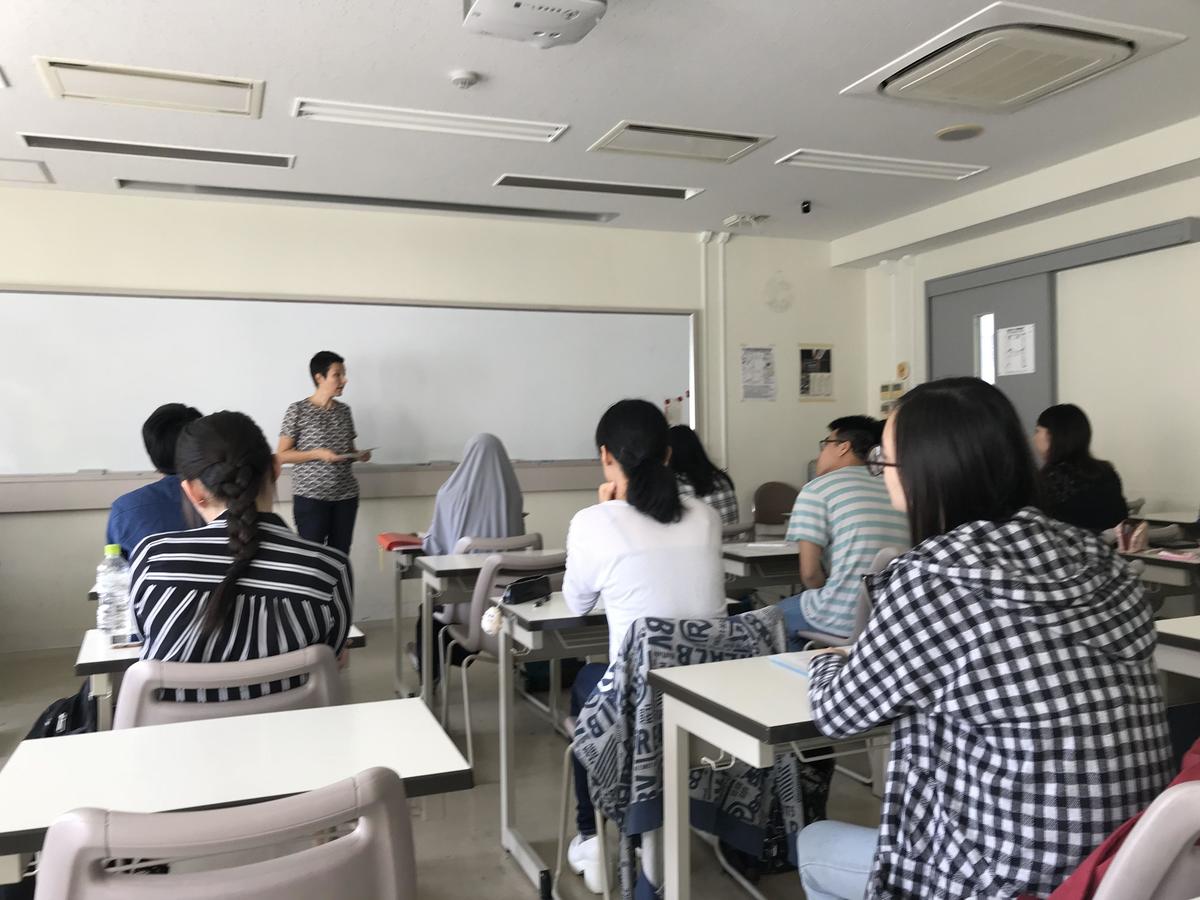 Biology class taught by Maria Vassileva, Designated Associate Professor at G30. Overseas students' eagerness to take part in discussions surprised Japanese classmates.
Japanese students had always been allowed to take G30 lectures, of course, and there have been Japanese participants who, after taking these classes, decided to study abroad. Despite that, attracting Japanese students proved to be hard, perhaps because of trepidation about the level of English required, and the enrolment numbers remained low. This year's project aims to change this by offering Japanese students extra support. A headline feature of the project is weekly one-to-one supplementary tutoring by overseas students. It is hoped that, in a long term, it will become as common for Meidai's Japanese graduates to progress to top overseas graduate schools such as Oxford and Harvard.
Shin Sugiyama, Lecturer researching biological science at Meidai's Graduate School of Science, volunteered for the job of promoting this vision. He has been teaching G30 classes for several years, delivering the same lecture content in Japanese and English. The difference in students' response has been staggering. "Japanese students take it for granted that they will be able to graduate no matter what. Overseas students, on the other hand, work hard to get the best grades. He finds it much more stimulating to teach G30 classes and has been keen to get himself involved in the programs. He applied for a funding award called president's discretionary expenses for the project, which was accepted in summer.
"I would like Japanese students to use G30 not just as an opportunity to improve English, which is a given," comments Oda, "but also to experience the sort of classroom environment they would encounter at western universities so that they can prepare for study abroad in the future." The way overseas teaching staff conduct their G30 classes is predominantly discussion-based with a lot of student participation, as is the norm in the US and Europe, in stark contrast to the Japanese "write down what the teacher says" style of learning.
Mizuki Kai, a third-year agriculture student who, after attending the presentation, took a G30 biology class for the first time, says she was astonished by the difference in the whole atmosphere of the class, taught by Designated Associate Professor Maria Vassileva from Bulgaria. In her undergraduate course classes, silence falls when the teacher asks "any question?" In G30, hands shoot up and students fire away with questions and opinions. Maria Vassileva responds with "what do you think then?" It was a culture shock to Kai. Although she is not currently planning to study abroad and was motivated purely by the opportunity to learn English, she is glad she worked up enough courage to enroll. "It would be such a waste not to make use of an environment like this right here at Meidai," she says.
After each English-taught lecture, each Japanese student can receive supplementary lesson and additional tutoring for 90 minutes from G30 students, as well as access to recorded video materials for some lectures. They really are well looked after.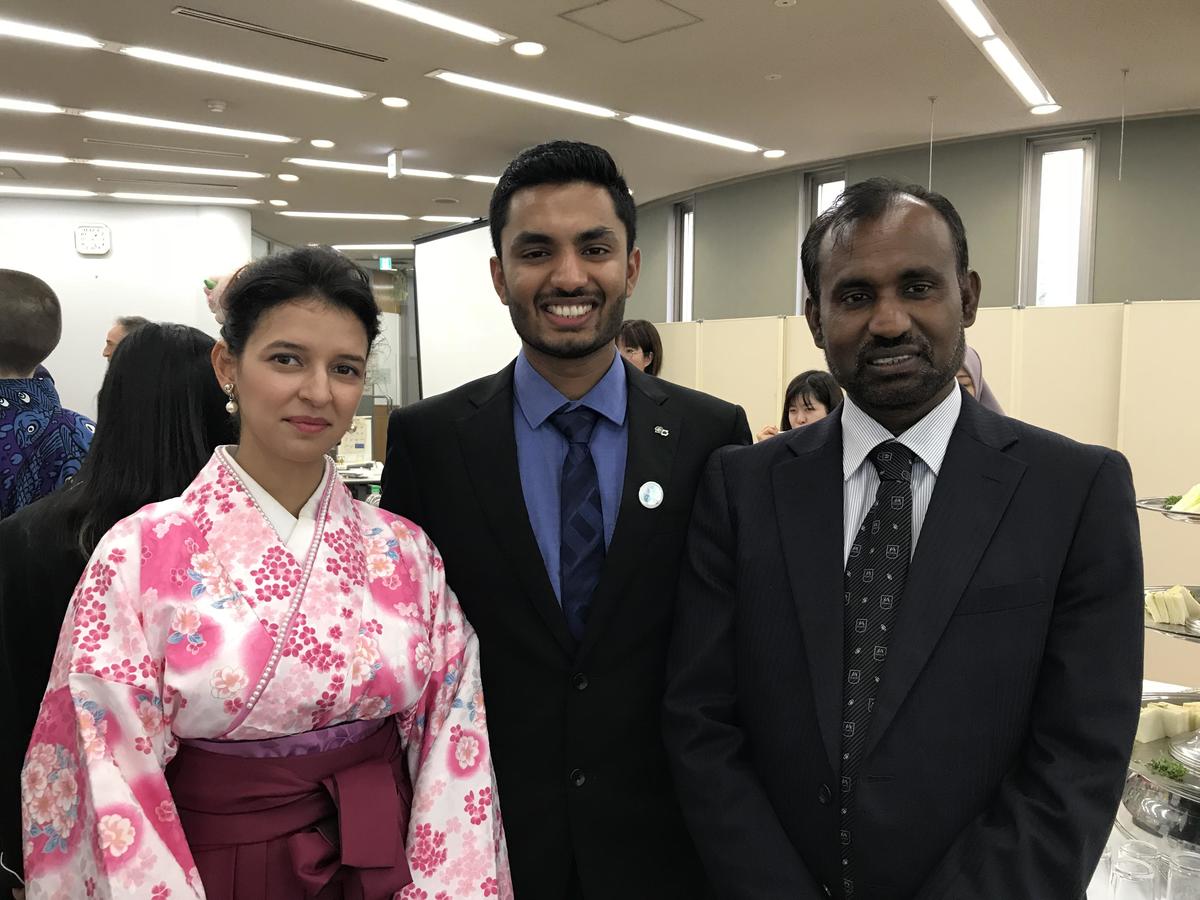 Srishti Sinha (left) and Suchetha Cooray (center) at the graduation party held at the end of September. Cooray, from Sri Lanka, is now studying postgraduate physics at Meidai. His father N. S. Cooray, who attended the graduation ceremony, also studied at
When Oda put a call out to G30 students to help Japanese classmates as study assistants, he was inundated with applications. Overseas students see it as an ideal opportunity to get to know Japanese students. Oda secretly feared that he might end up with more assistants than students to be assisted.
He needn't have worried. Even though the recruitment drive for the fall-semester test run was relatively small-scale, the response far exceeded his expectations. Oda and his team are now confident about the full-scale introduction next year. Explaining their ambition, Oda says: "we want to improve the quality of education at Nagoya University through mutual learning with international faculty members and students."
Srishti Sinha from India is one of the overseas students who volunteered to be assistants. She had followed the footsteps of her sister to enroll in Meidai's G30 program. Her sister Sapna Sinha, two years senior, studied chemistry at Meidai and conducted research, including a journal article she published in her fourth year. After graduation, she moved on to postgraduate study at Oxford. Srishti Sinha studied automotive engineering and, after graduating this fall, is now enrolled in the graduate school at Meidai. Raised by parents who are both professors in India with experience of studying in Japan, Srishti was always determined to study in Japan. Although she was accepted by G30 at the University of Tokyo, she found the choice it offered ― Japanese cultural studies and environmental studies only ― too limiting, and instead chose Nagoya University for a chance to study engineering. Her dream is to join a Japanese company. A promising Meidai student, indeed.
From the way classes are run to the diversity of the people, G30 is an international microcosm on campus. Dissolving its borders is a step towards internationalization we can take right here at home, and the significance of this change will certainly go beyond the performance targets of the G30 programs. On hearing about this latest initiative at Meidai, a professor involved in G30 programs at another state university says that the move is keenly watched: "Expanding the program to Japanese students must surely be the direction of travel the G30 project intended in the first place."
I hope that the students who turned up in numbers to the surprise of faculty members will continue surprising their teachers by daring to aim high. Go out to the world. Defy the detractors who say Meidai students are inward-looking.
I hope that this international microcosm will trigger a transformation of Nagoya University into a place of learning wide open to the world.