Surprised, I had to ask again. "What? A Buddhist memorial service every month?"
 Exactly six years after the 2011 earthquake and tsunami in Japan, on the Saturday afternoon of March 11 this year I was at a talk in the gallery of the Disaster Mitigation Research Building (abbreviated in Japanese as "Gensai-kan") at the Nagoya University Higashiyama Campus. The theme this day was "People and Earthquake Disasters as Explained by the History of Aichi Prefecture," and the lecturer was Prof. Masayuki Takemura, a seismologist renowned for his research into historic quakes such as the 1923 Tokyo-Yokohama earthquake.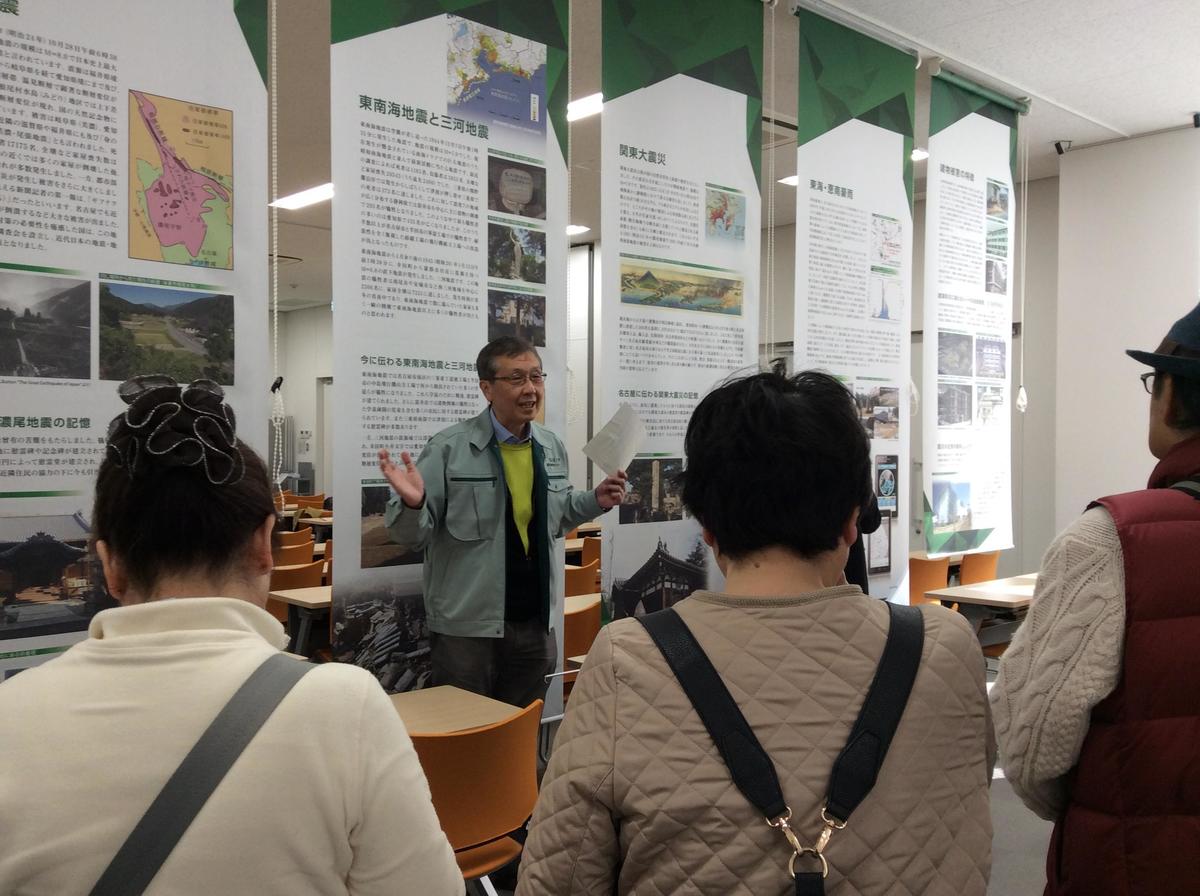 Participants had many questions to ask during the lecture by Prof. Masayuki Takemura (March 11, 2017).
 The Buddhist services he was talking about were for victims of an earthquake--the Nobi Earthquake that struck more than 120 years ago, on October 28, 1891. It was a magnitude 8.0 quake, one of the strongest inland earthquakes ever to have struck Japan--causing over 7,000 deaths, mainly in Gifu and Aichi Prefectures. It is also known as the Mino-Owari Earthquake (for the geographical names Mino and Owari, but also sounding like "the end of one's life" in Japanese), and because the then-modern brick construction in Nagoya collapsed, it launched new attention to seismology and seismic engineering research. At the time, House of Representatives (national parliament) member Jakuen Amano constructed an earthquake memorial hall in Gifu City, and to this day his descendants and others hold Buddhist memorial rites on the 28th of every month. Today, his descendant reportedly returns from where they live in Kanagawa Prefecture (nearly 400 kilometers) for the monthly services. This really got me thinking--the two things occurring on such a different time scale, the historical scale of more than 100 years, and the monthly scale of day-to-day life.
 Prof. Takemura was speaking to participants. "We speak of weathering or fading as if it were a natural phenomenon, but it is humans that allow something to fade. Whether or not a memory fades depends on people."
 Did the strong desire to ensure that the Nobi Earthquake, which had caused such enormous damage, would never fade from people's memory make the Buddhist rites a regular event that started as a monthly memorial service?Certainly, something once a year would quickly fade from awareness. But making it monthly, on the time scale of day-to-day life, ensures that the memory is internalized. Maybe it has been the wisdom of seeking a way to ensure the memory did not fade. This is a serious topic for today, when some people say the memory of the 2011 earthquake and tsunami is fading after just six years.
 At this talk, Prof. Takemura, looking back at the history of large earthquakes and their damage during and since the Meiji period in Japan (1868-1912), says that structural seismic standards have been strengthened thanks to legislative amendments, so the deaths from ground vibration and earthquakes have steadily decreased. But it is not possible to use legislation to regulate human activity such as evacuation to a higher elevation, so the number of victims from tsunamis is not trending down. Humans cannot be made to change so easily. Prof. Takemura concluded his talk by saying that "True disaster risk reduction starts by thinking about people," and he appealed for each of the 20 participants to take on the challenges and not give up.
 The personnel at the Gensai-kan offer daily public talks in the center's gallery under the title of "A Talk on Disaster Mitigation and the Exhibit," except on days when the facilities are closed. I doubt that other university research facilities are doing this much outreach. Prof. Nobuo Fukuwa, Director of Nagoya University's Disaster Mitigation Research Center, which provides the facilities for the Gensai-kan, is clear about this: "Since the organization was supported by society, half of the building is here to serve society."
 Not only that, but Gensai-kan also has something else that is quite exceptional. I'll try to explain.
 People in Japan are familiar these days with the word gensai ( "disaster mitigation" in Japanese), but it was actually well before the 2011 earthquake and tsunami that Prof. Fukuwa set out to create a research institute with "disaster mitigation" as part of the name. When that earthquake occurred, the funding he was expecting to receive ended up going to the Tohoku region, so it was eventually with contributions from local businesses that the Center was able to officially open in January 2012. He says that to this day the funds received from the university make up just a small portion of the total, and that operations are mainly funded by donations and external sources. That is why he says the organization is supported by society. The perspective of always asking how their research can truly contribute to society permeates all their efforts.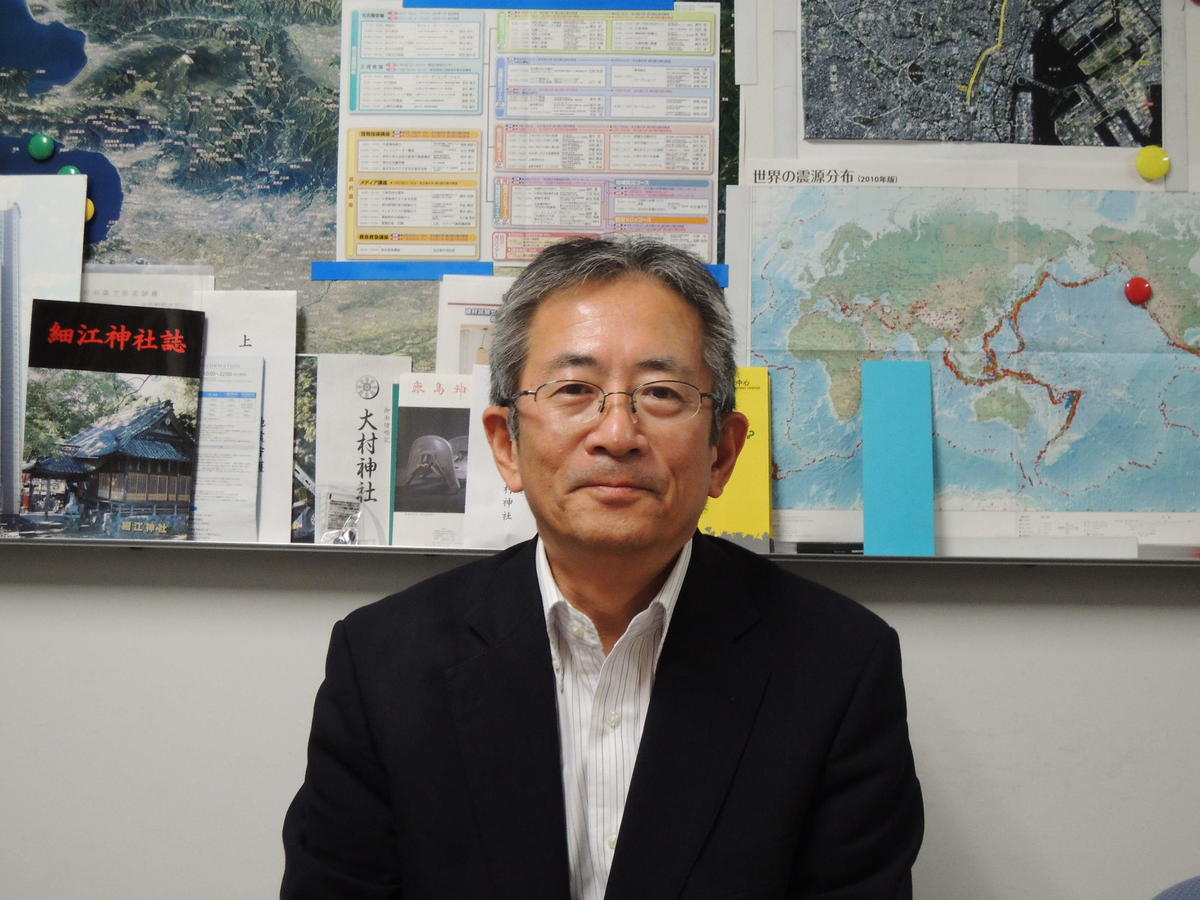 Prof. Nobuo Fukuwa, Director of the Disaster Mitigation Research Center
 As a newspaper reporter, I have personally covered disaster mitigation topics in the past, and on more than a few occasions, I have felt that even though there may be various plans for evacuation and restoration, they often seem to be nothing more than theoretical scenarios. Obviously, no one has any idea when and how a natural disaster will strike. The characteristics of a disaster will depend completely on various factors, like the time of day, season, or even day of the week. For example, the 1995 Kobe Earthquake struck in the early morning in the middle of winter. It occurred at 5:46 a.m. on January 17, before the Shinkansen bullet trains (which carry hundreds of passengers) had started running for the day. Meanwhile, the 2011 earthquake in the Tohoku region occurred at 2:46 p.m. on a Friday afternoon in early spring, March 11. What if the opposite had occurred? If the Kobe Earthquake had struck on a Friday afternoon, numerous bullet trains would have been running, and vehicle traffic would have been travelling both above and below the elevated highways, which actually tipped over when their supporting pillars broke. On the other hand, there would not have been the loss of life from houses collapsing on people who were sleeping, as actually did happen in Kobe. And, what if a tsunami had struck Kobe in the early morning? The tragedy of many children and teachers being unable to evacuate from Okawa Elementary School in Miyagi Prefecture would not have happened, but on the other hand, many people would probably have become victims by being unable to escape in the darkness.
 It is important not to dwell too much on what occurred in the past, but rather to turn our attention to the fundamental issues to be addressed.
 The focus of Prof. Fukuwa's attention is mainly to protect the Chukyo region (metropolitan region around Nagoya). To do that, it means engaging with businesses, local governments, and individuals to have them consider the fundamental issues, and to take steps to do what they can do respectively to address those issues. Why focus on the Nagoya region? Because this is a crucial region for manufacturing and production in Japan, and it includes businesses like Toyota Corporation. And protecting the region also means protecting Japan. He also says that they can do this because it is Nagoya. Nagoya features what is known as "the 3 Js" of jiyu kattatsu, jimichi, and jimoto-ai (roughly translated as freedom of spirit, straightforward, and loyally local). "We don't receive money from the national government so we also have more freedom, we are country folks so we are straightforward, and were born here so we have a strong love for our region. That is how we can keep doing the same thing without being buffeted by popular trends, and that is how we are even able to earn the Nobel Prize," he says.
 One of the activities they are putting their energy into is "Honne no Kai" (honne means "real intention" so this could be translated as "Straight-Talk Meet-up"). Once a month, they literally speak their minds on the topic of disaster mitigation. One condition for joining is to speak without concealing your true facts. No lies are permitted, and anyone who cannot speak due to some constraint may make some indication with their eyes. But whatever is spoken is never to be repeated outside the meeting. Those are the rules. Participation comes from the personnel in charge of disaster risk reduction at about 40 organizations, including almost all industries--from automakers, power and gas utilities, roads and rail, to communications and insurance--as well as from local governments. When they speak based on reality, they discover important things. For example, in the case of water-related infrastructure, members discovered that recovery after a disaster would not go according to their scenarios, with various problems arising upstream and downstream.
 One other thing they are putting energy into is cooperation among municipalities. Each municipality only thinks about its own region, so if each one of them was asked to indicate its own emergency transportation routes on a map, and all of the routes were combined on one map, it would be discovered that some routes end at the municipal boundaries. That kind of issue will become clear if people talk about things together. "The point is that everyone is articulating their true situation so that we can survive together."
 Above all, there is no doubt that when we do what we can do because we are in Nagoya, and the efforts will lead us to a new model for disaster mitigation.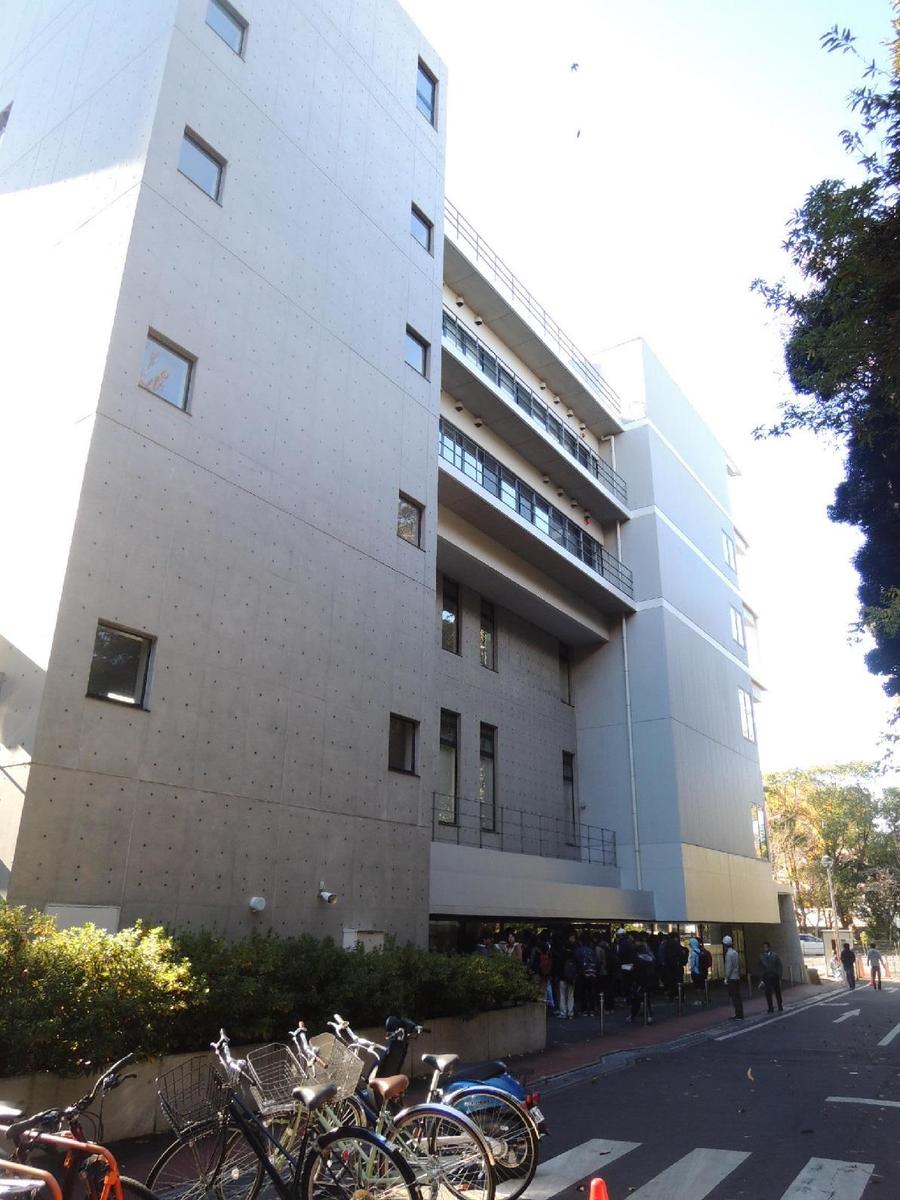 Students on a study tour observe a test that shakes the entire building (December 6, 2016, Gensai-kan)
 And then there is the uniqueness of the Gensai-kan building itself. It is also actually a testing site for the shaking of an entire five-story building. There are shake tables for experimental purposes, with a structure put on top of them. You could search the world and probably not find another example where a building actually in use can be shaken like this. I was lucky enough to join an observation tour at the beginning of last December. I also took the opportunity to invite my reporter friends from Tokyo, and three of them came along, so we took the tour following a pre-tour lecture by Prof. Fukuwa.
 An example of what happens is that a 6,000-ton building is pulled horizontally 15 centimeters by jack. Then after a five-four-three-two-one countdown it is released. The building is sitting on a seismic isolation mechanism, so the shaking does not last long and it quickly settles. But to witness a large building moving is a very intense experience. Inside the building this works out to a seismic intensity of up to 3.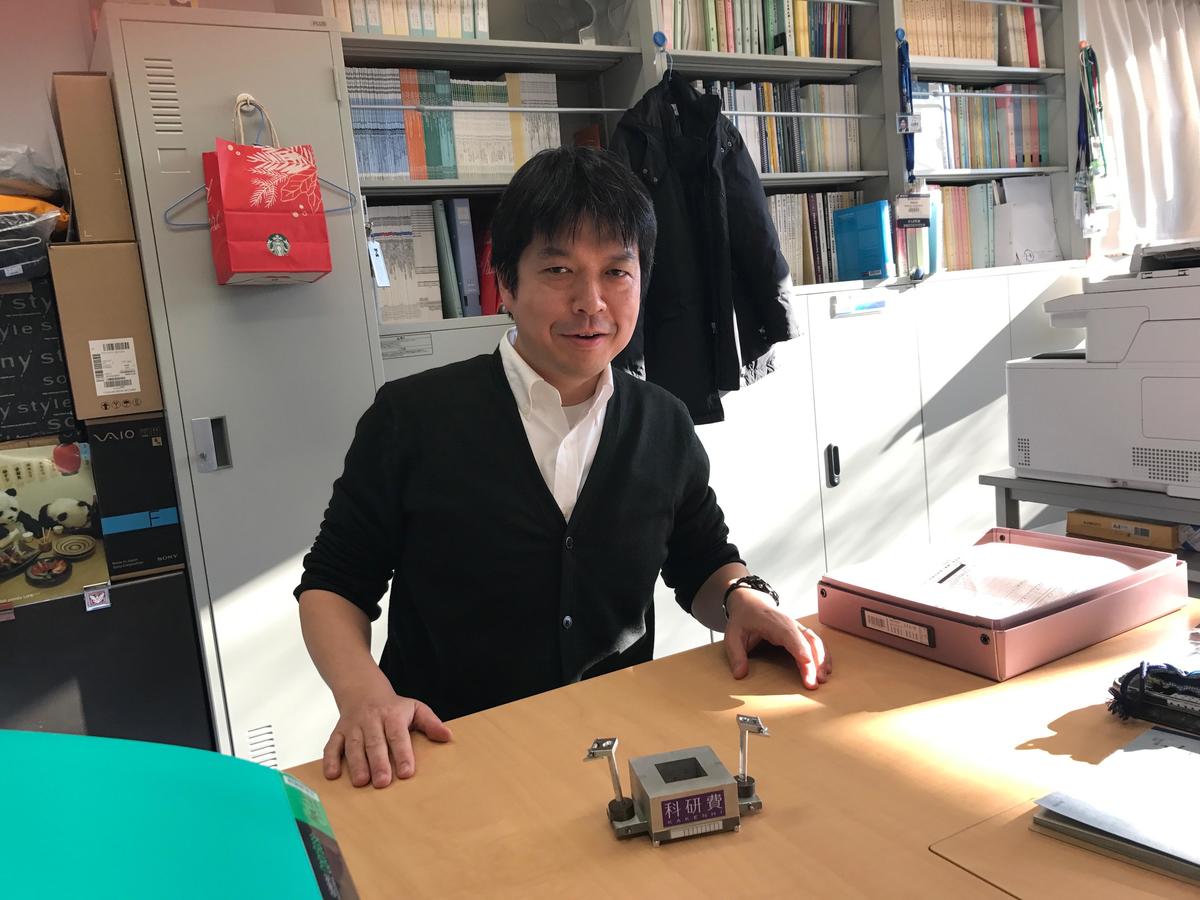 Prof. Susumu Hara, Department of Aerospace Engineering, Graduate School of Engineering, Nagoya University
 A lot of students came out for the seismic trial this day. When I asked, I learned that this was a part of a course by Prof. Susumu Hara of the Department of Aerospace Engineering. Prof. Hara wondered what he could do to increase students' motivation to learn--in other words, how to ensure students would stay awake in class. He tried various approaches, like using movies and showing models, but what he hit upon as the ultimate method was, in his own words, to "shake the entire classroom." The trial was conducted twice, so the students experience both the shaking while inside a building, and close-up observation of seismic isolation equipment that supports the building. In mechanical engineering, vibration is an important issue, and in the lectures after the experiment, they are interested in seeing how things are written in textbooks about this kind of shaking and how it is controlled. The tours started two years ago and students' interest was high, so they were repeated last year.
 The students will probably internalize this as living knowledge, better than having simply read the textbook. Prof. Hara published a paper on the "V-shaped Education of Vibration and Control Engineering" by having students first experience a large-scale physical experiment, then learn theory and do small-model experiments by themselves. The study has attracted attention as a new approach to education in the field of engineering. He is also aiming to make a presentation on his work in international academic societies. Prof. Hara says, "We are fortunate to have these experimental facilities so near to us, so I really think that we'd better make more use of them for education."
 Gensai-kan is serving not only for disaster mitigation. It also reveals huge potential as a cutting-edge educational facility.
 The Gensai-kan is really an outstanding facility.