"Meidai's automotive engineering programs have become an object of global interest, and have even made a name for themselves in India," says a friend of mine who works as head of the India office of one of Japan's national universities. While, he admits, Meidai seems also to benefit from its association with Toyota, the world's largest automaker, it's the programs that are gaining in prestige. Even the son of a professor of the Indian Institutes of Technology (IITs), a premier university system in India, has enrolled at Meidai.
The automotive engineering programs my friend in India mentioned are not at the School of Engineering, but rather can be taken on an undergraduate or graduate level as part of the Global 30, a series of programs that are offered entirely in English. There isn't the automotive department at the School of Engineering. Instead, the contents of automotive engineering such as mechanical engineering and many other subjects are spread all over the school and taught. It is further testament to attraction of the word "automotive engineering in Nagoya".
I had a chance to see the source of that attraction by observing this year's Nagoya University Summer Intensive Program (NUSIP), titled "Special Topics in Automotive Engineering." The program is open to international students for a fee of 2,000 dollars; factor in travel expense and the cost per student comes to about 500,000 yen. Despite the price tag, the program is competitive, with two to three-times more applicants than it can accept. A program that attracts this many students working on a private budget seems a bit rare. The success of the program, which began in 2008 and celebrated its 10th year this summer, was even a contributing factor in the opening of the Global 30 automotive engineering programs.
The idea for NUSIP originated in discussions inside the School of Engineering about how to correct an imbalance in the movement of students between Meidai and the University of Michigan's College of Engineering in the U.S., with which Meidai is partnered. Nearly all students involved in the exchange were from Meidai going to UM, with very few UM students coming to Meidai. The solution that emerged was a summer program focused on automotive engineering, one of Nagoya's regional strengths. Not only is the field gaining steam as an industry, but the Tokai region, of which Nagoya is part, is also home to such automakers as Toyota, Honda, and Suzuki, and related companies such as Denso. These companies are important employers for Meidai students and have strong connections with the university. Classes in the program would be taught by Meidai professors and industry experts, and would cover the entire range from fundamentals to state-of-the-art. Classes would be held in English, of course, and students required being at least in their third year of undergraduate study or graduate school to attend. The program was first offered to students of UM and other partner schools, but later expanded to other universities. According to Designated Professor Yukio Ishida, "Virtually nowhere else can you hear from such a range of lecturers, including experts working on the front lines of industry." The number of participants has quickly grown, and since so many want to attend relative to the program's current capacity of 40, each school is now asked to limit their participating students to three or four.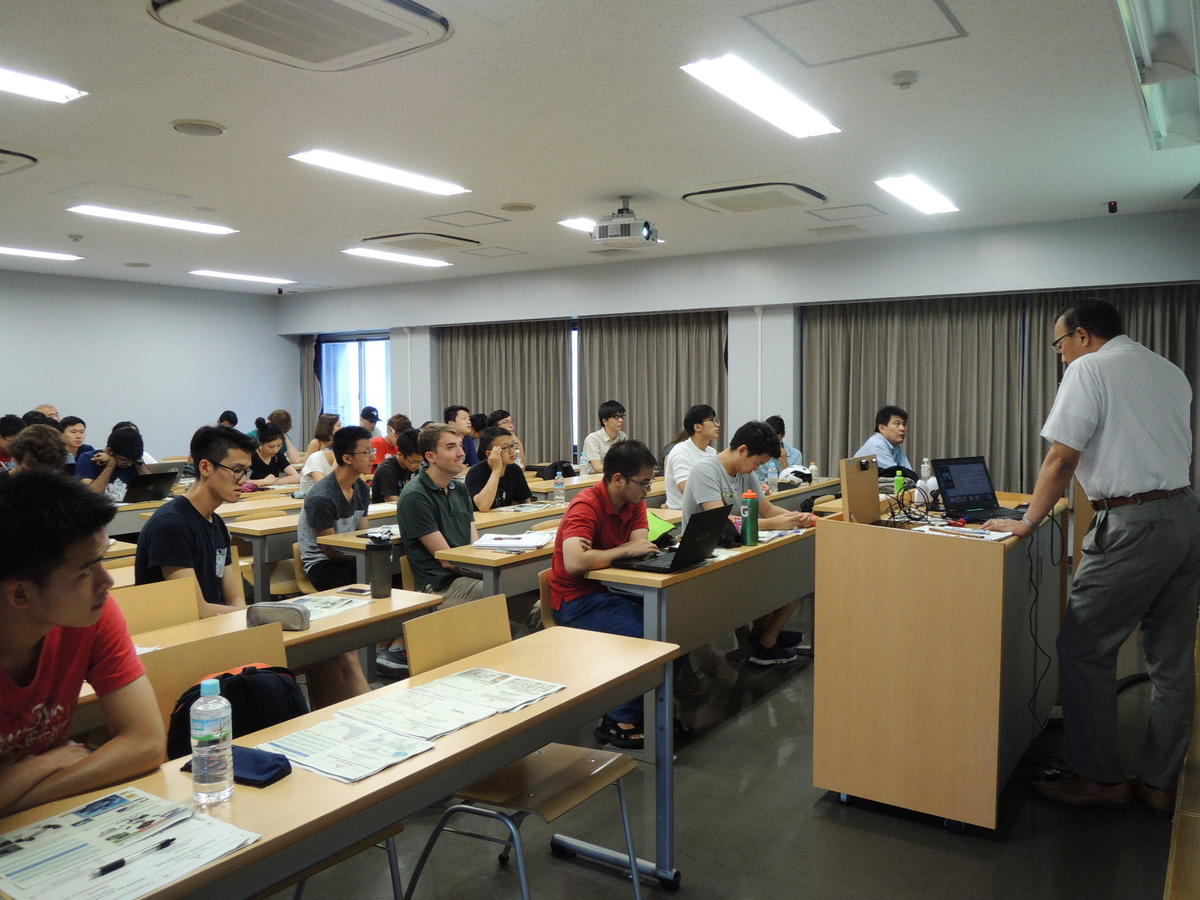 NUSIP students listen to an industry expert lecture on automobile market trends (July 7, at Meidai School of Engineering)
This year NUSIP took place in the six weeks from June 14 to July 20. Participants from overseas were a truly diverse group: Broken down by affiliation, there were 20 students from 9 schools in the US, five students each from one school in the UK and two schools in Hong Kong, three students from two schools in Canada, two students from one school in Italy, and one student each from Sweden and China. Many were from Asian countries such as China, Taiwan, and India studying abroad at Western universities. Quickly scanning the lecture room, I recognized about half as Asian. There were seven women -- just under a fifth of the class, or about twice the less than ten percent of students in Meidai's School of Engineering who are women.
After orientation, the program began with excursions to Kyoto and Nara. Japanese cultural immersion is another important objective of the program. Students then returned to Meidai, where they attended Japanese language classes in the morning, and lectures by Meidai faculty and industry experts in the afternoon. The lectures covered a range of topics, from planning and manufacturing, to design and safety, market trends and future outlooks. A special lecture is also held every year. This year, a director of the Japanese subsidiary of Bosch, a German company, spoke on new endeavors in today's world of uncertainty. Back in 2010, it was Toyota Honorary Chairman Shoichiro Toyoda who joined the class to speak with students.
In the industry site tour, participants visited nearby manufacturing plants of Toyota, Mitsubishi, Suzuki, and Yokohama Rubber, and also ventured out to Tokyo, where they toured automotive companies and public research facilities. Some of these sites normally don't offer tours. That companies would be unusually accommodating not only attests to their connection with Meidai, but as Prof. Ishida says, "For companies, students are like golden eggs -- sources of great potential value." After all, these are students of mechanical engineering and electronics and other relevant fields, who are interested in Japan and motivated to attend the program even at high personal expense. Though skill levels vary, they can even speak Japanese: About a fifth of the students have experience studying Japanese, and even beginning students study every day during the six-week program, giving them simple conversational ability.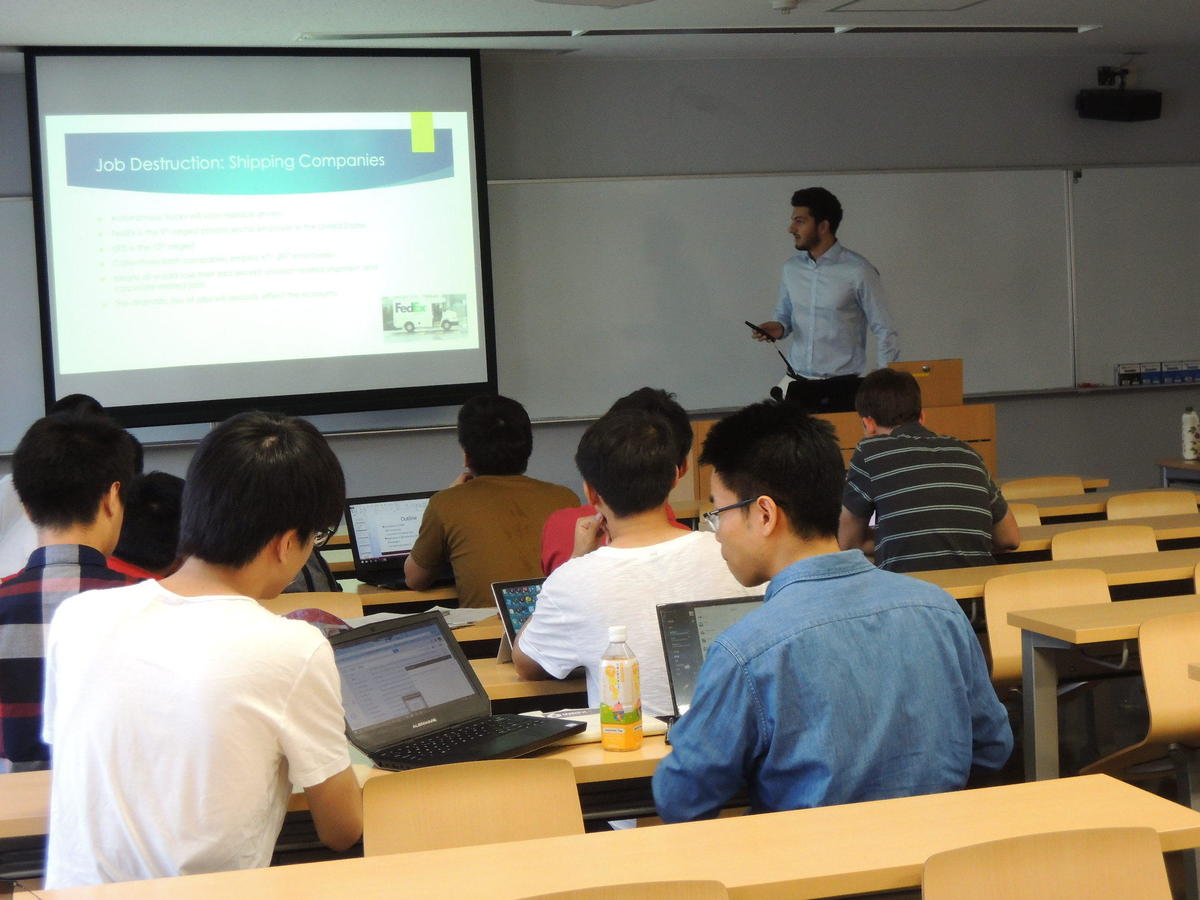 Each participant gave a presentation on their own topic (July 20, at Meidai School of Engineering)
After final presentations were given by each participant, a social was held on the last day, July 20, to close out the program. Everyone delivered a speech in Japanese. Some stumbled more than others, but all expressed feelings of appreciation and memories shared: "I'll remember this for life." "I've had some unforgettable experiences." "I'm deeply grateful to the teachers for taking care of us." "I don't want to say goodbye." "Let's meet again." Assistant Professor Emanuel Leleito, who watched over the students, comments, "The students have had some truly remarkable experiences in the program and seemed toward the end to really open up and become great friends." Leleito, a native of Kenya, is also passionate about cross-cultural exchange.
Ghansela Pankaj, the youngest of his cohort at age 19, is from India and just finished his sophomore year at the University of Calgary in Canada. "It was great hearing stories from people in the industry," he says. "I love the Japanese style of going slow and steady, in a good way." Martina Tocchi, from Italy, is a woman studying mechanical engineering at the Sapienza University of Rome with a special interest in energy. "I learned a lot participating in this program," she says.
For these students, the program was certainly an invaluable six weeks of rare experiences and the making of friends from around the world. Past participants have gone on to attend a Global 30 program or graduate school at Meidai, or another university in Japan. Prof. Ishida would also like program graduates to seek employment with Japanese companies.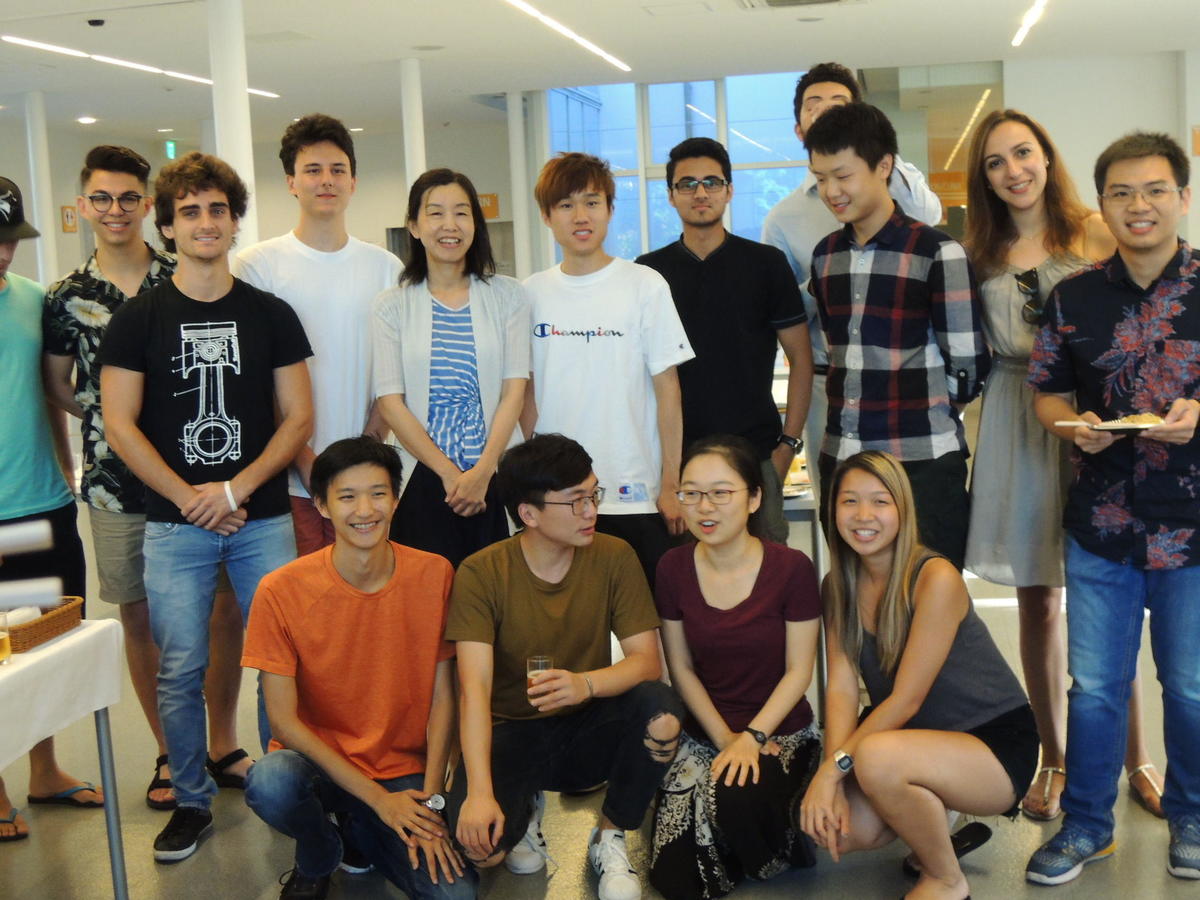 Group photos were taken in abundance at the program's closing social (July 20)
Another great desire of Prof. Ishida's since the start of the program has been for more Meidai students to take advantage of the program as a globalizing influence. This is why ten spots in the program are allocated to Meidai students. For the many Japanese youth who feel hesitant to venture overseas, spending time with foreign students is like studying abroad while still in Japan. It's like a private conversation school at one's own university. The program is also free for Meidai students.
Unfortunately, however, most participants in Meidai's quota are international students themselves. Only one or two each year are Japanese. For students with little confidence in their English abilities, hearing and submitting a report after each lecture and giving a presentation at the end -- all in English -- might be too high a hurdle.
This year, the only Japanese participant was Yoshinori Kobayashi, a first-year master's student. He learned of the program from a poster in his undergraduate department, but was too busy to participate junior or senior year. Though he lacks confidence in English, he decided to join this time due to his love of cars. Now he has friends in the world who call him "Yoshi." He recommends the program to his juniors: "You get to see places you normally can't see. It's a super fun, rewarding program."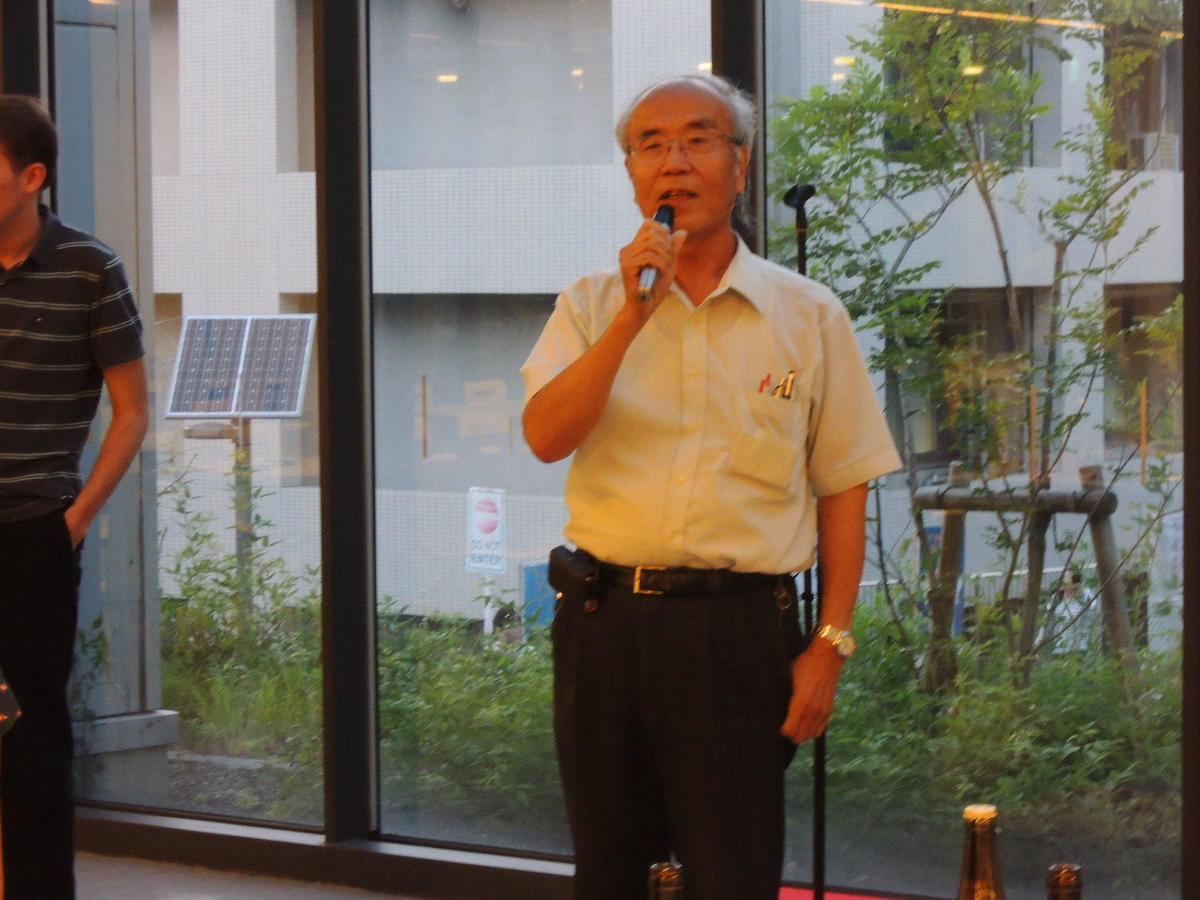 Designated Professor Yukio Ishida speaking in response to words of appreciation from the students (July 20)
NUSIP is like an international zone that forms in the corner of campus for more than a month each summer. It could be better utilized. At the end of the social, Prof. Ishida encouraged the students to "think also about your colleagues who wanted to come but couldn't." Yet the students from abroad had gone through a selection process and bore great personal expense to come to Nagoya at the hottest time of year. It goes to show how precious this learning environment is. I have no doubt that Meidai students who participate in the program will gain a fresh perspective on their own learning environment. Connecting with students of the same age with whom they will at times compete and at other times collaborate in the coming era will broadly expand their horizons and prove a valuable asset on their future paths. And no need to pay for travel. As Yoshi says, why pass up such a wonderful opportunity? I would suggest that freshmen and sophomores apply themselves to their English studies now with the goal of participating in the program later.
Every year at the spring orientation and other events, Prof. Ishida invites the Engineering School students to the program. Since the number of participants has been quite small, he wonders whether a more robust approach is needed, such as setting up an international zone on campus where using languages other than English is prohibited in restaurants and other social settings.
Observing the students calls to Prof. Ishida's mind the words of samurai Takasugi Shinsaku, written when he was 20 years old:
"If I had wings, I would fly far and wide and see the countries of distant lands."
University is truly a place that gives students wings, in a variety of ways. I would like to see Meidai students make better use of this place so that they can really soar.