On July 31, 2017, at a lecture hall of the University of Malaya in Malaysia's capital of Kuala Lumpur, Professor Toshihide Maskawa gave a talk on "The Journey to a Nobel Prize." He happens to be a Meidai graduate and Nobel laureate for his work in theoretical physics. Naoshi Sugiyama, dean of the School of Science at Nagoya University, was also there as a veteran interviewer, having been with him on stage more than twenty times before. To answer questions from University of Malaya professors, he elicited stories from Prof. Maskawa that included memories of his childhood and early student years, the research that led to his Nobel Prize, and advice for young people, all mixed with little-known episodes of his life. The student audience in the great hall listened intently, transfixed, and asking many questions.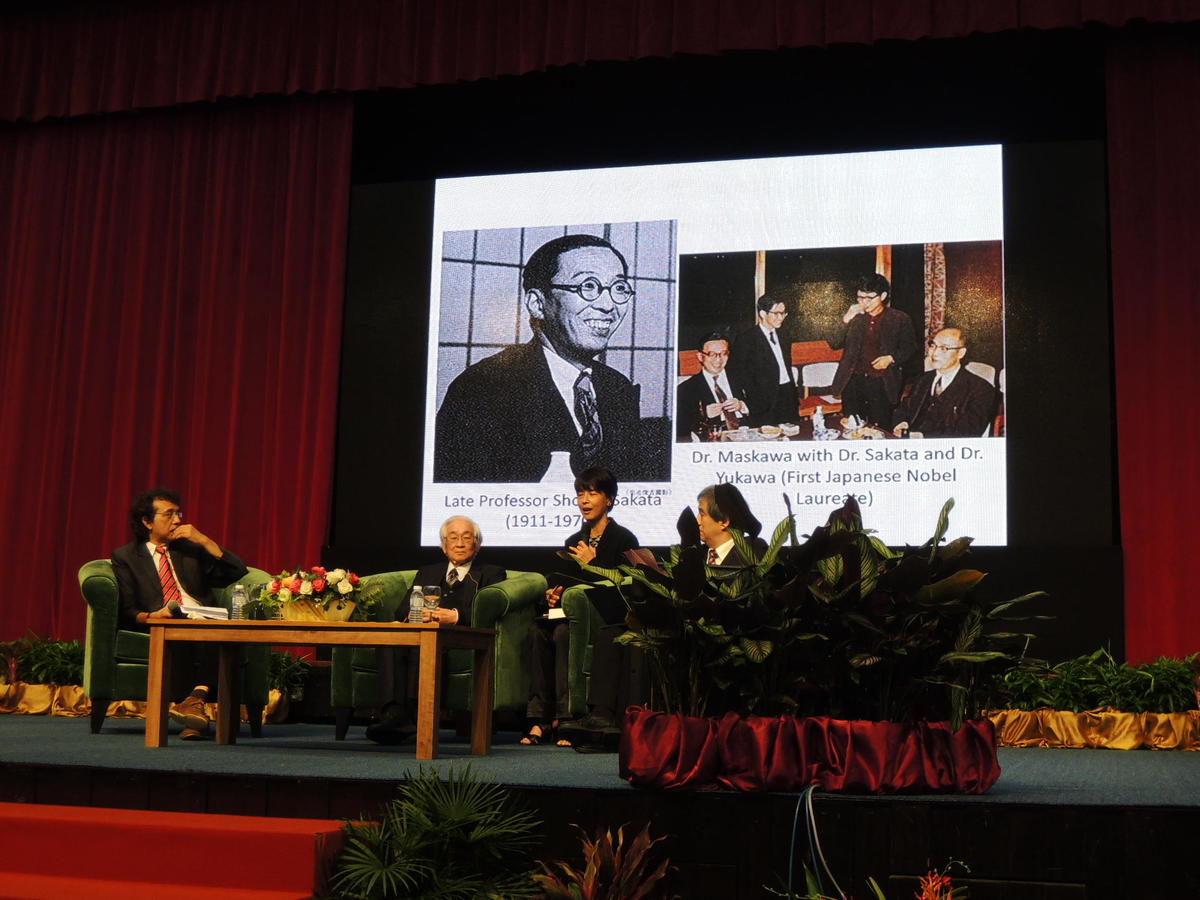 Prof. Toshihide Maskawa speaking in front of a picture of Prof. Sakata, his university teacher
Lecture audience with Prof. Maskawa
Nobel laureates receive an endless stream of requests to speak in Japan and the world. It is not possible to say yes to all of them, and it's sometimes a stretch to satisfy overseas requests, but apparently this special lecture arose from an invitation by the Malaysia branch of the Nagoya University Alumni Association, which was established in February 2016.
For about a week starting at the end of July, university president Seiichi Matsuo and other officials visited Malaysia and Thailand. This lecture by Prof. Maskawa was one of the featured events. For Meidai alumni living now in Malaysia, it was surely a treat to be at this event and be introduced as graduates of the Nobel laureate-producing university in front of students of the University of Malaya. I was able to go along for these visits and meet many Meidai alumni who are actively serving as bridges between their home country and Japan.
Since it was created in 2002, the president of Nagoya University Alumni Association has been none other than Shoichiro Toyoda, the honorary chairman of Toyota Motor Corporation. The day before I departed for Malaysia, on July 28, he gave a lecture in Nagoya entitled "Making Things, Making People" as an Aichi Invention Day event. Invention Day is associated with August 1, the day that Sakichi Toyoda (known as the king of Japanese inventors) received his patent for the first automated power loom. This special lecture was presented also to commemorate the 150th anniversary of his birth, and it was quite a success, with satellite venues even set up for audiences. At the lecture he spoke of "research and creativity" -- precepts from his grandfather Sakichi, who died when the younger Toyoda was just five years old -- and said that they would become increasingly important today. In closing he quoted the words he liked so much from his grandfather, "Open your mind, and look at the great world outside," and shared his own hopes for the future, saying "Young people, open your eyes and dream big dreams." You could say this is also a message to his juniors at Meidai. At the age of 92 this year, he says his legs are getting weaker, but he never misses important events like university entrance or graduation ceremonies and homecoming days and gives powerful speeches. He makes people feel there is something awesome about his alma mater.
This Malaysian branch is the fifteenth overseas branch of the alumni association. There were 48 international students from Malaysia studying at Meidai last year, and the number ranks ninth in terms of students from all countries and regions at Meidai, so you could say this branch came a bit late. It was Nafarizal Bin Nayan who initiated efforts to establish the branch, and he also became its chairperson. He had come to study engineering at Meidai and spent nine years here to complete his PhD. Specializing in electronic information systems, he is now an associate professor at Universiti Tun Hussein Onn Malaysia. During his post-doc studies at Hokkaido University from 2011 to 2013, he realized that Meidai had no alumni branch in Malaysia and decided he would like to create one. Then, he was invited back for the university's homecoming day last October, for the Nagoya University Award for Contributions to International Exchange, along with Jamila Mohd. She is now a senior lecturer at the University of Malaya and seen as the top person for Japanese language education in Malaysia. They say it was then that a decision was made to organize this lecture by Prof. Maskawa.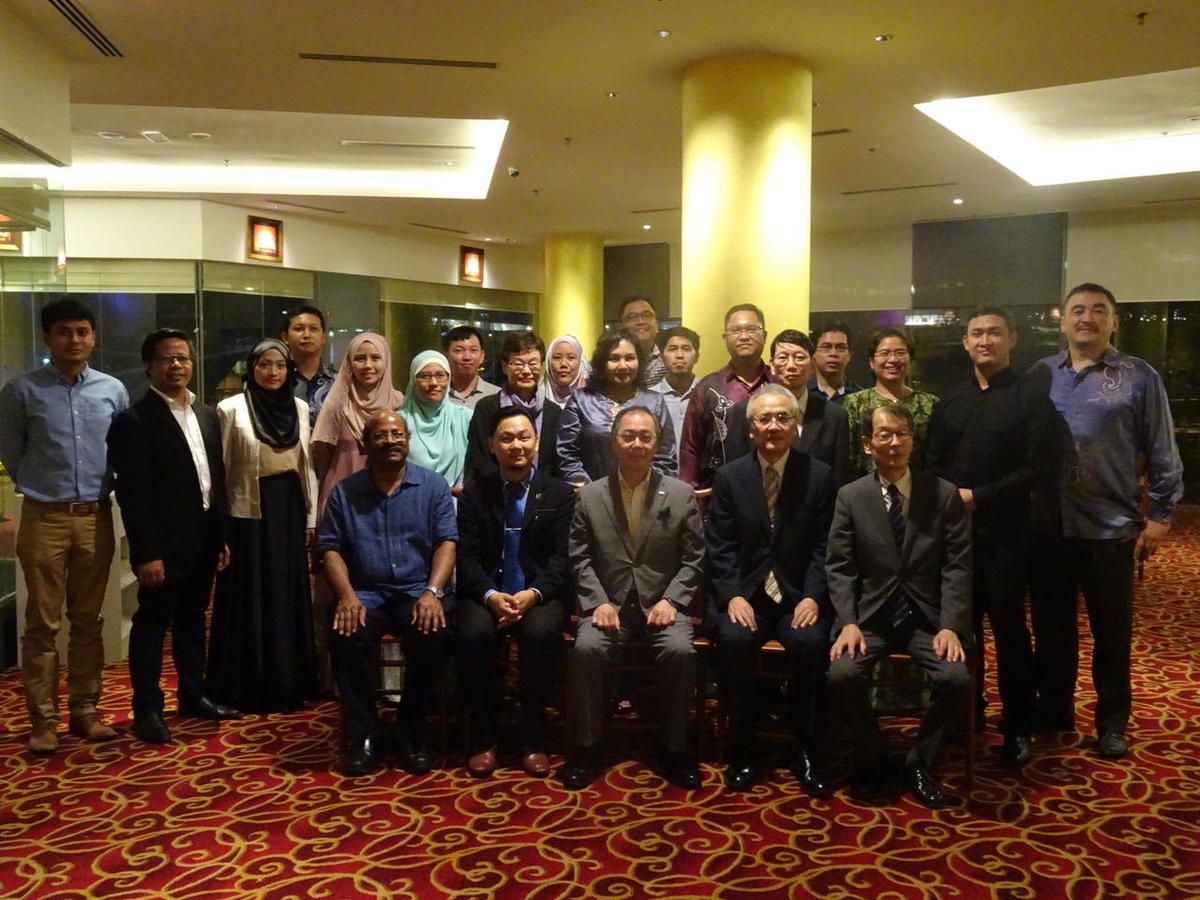 Welcome party organized by Meidai alumni. Meidai president Seiichi Matsuo (center of front line), Jamila Mohd (behind him), Nafarizal Bin Nayan (on her left)
Malaysia is one of the countries whose government decided to encourage its students to study in Japan. Based on the "Look East" policy of then-Prime Minister Mahatir Mohamad -- government policies that emphasized Asian approaches -- a special program was created at Malaya University in 1982 for students to study at Japanese national universities. Outstanding students would be selected and the government would cover full costs for two years of Japanese language studies and high school equivalent math and science education. The program also included the arts initially, but the real emphasis was for students to advance to engineering studies at Japanese national universities. The Japanese government also cooperated in this program, and according Toshio Mizuno, head of a group of educators in Malaysia sent by the Japanese government, about 3,900 people had completed the program and gone on to universities in Japan by March this year. Among them about 100 have studied at Meidai. Nafarizal Bin Nayan is one of them.
Actually, his preference was to study in England, but he says that partly because his English ability was not strong and also that he felt he would have a better chance of being accepted to study in Japan, he chose this country. Despite two years of preparatory studies, looking back he says it was tough to keep up with the university lectures. Some of his peers who entered Meidai at the same time ended up dropping out. But his efforts paid off when he eventually obtained his PhD, and he says he was glad to have chosen Japan. He says he wants to put some energy into the alumni activities now.
Jamira Mohd also went through the preparatory studies course. First she advanced to Tsukuba University, and then obtained her PhD at the Meidai Graduate School of Languages and Cultures. Today she is busy in her post teaching the Japanese language at Malaya University, interpreting at summit meetings, and engaged in activities to introduce the Japanese culture and language to high school students. Incidentally, her Kyrgyz husband is someone she first met as an international student in Japan. They later married, and he too is now teaching Japanese culture and language at Malaya University. This is an international couple that Japan brought together.
The number of students in this preparatory studies course is declining, from about 100 in the past to about 60 now. Some say that the decline could be due to no longer having full costs covered, as a result of changing government financial circumstances, while the appeal of Japan had also diminished somewhat as China has risen. In that context, one major challenge today would be how to continue attracting young people from Malaysia to follow people like Nafarizal Bin Nayan and Jamira Mohd.
Meanwhile, in 2005, the Thailand Branch was one of Meidai's first overseas alumni branches established. The president is Apinun Suprasert, who is dean of the Faculty of Veterinary Medicine at Kasetsart University. This is where Princess Chulabhorn obtained her chemistry degree, and specifically the standards for the faculty of veterinary medicine are high. On this occasion, I had the opportunity to visit the affiliated veterinary hospital, and saw that it was a match for human facilities with everything from CT and MRI to radiation treatment and rehabilitation equipment, and even wheelchairs for animals. It also has large practicum areas, receives trainees from veterinary medicine schools at Japanese universities, and is active in joint research. The university has a history of nearly forty years of exchanges with Meidai, and I was told that eight professors in the agriculture faculty there are graduates of Meidai.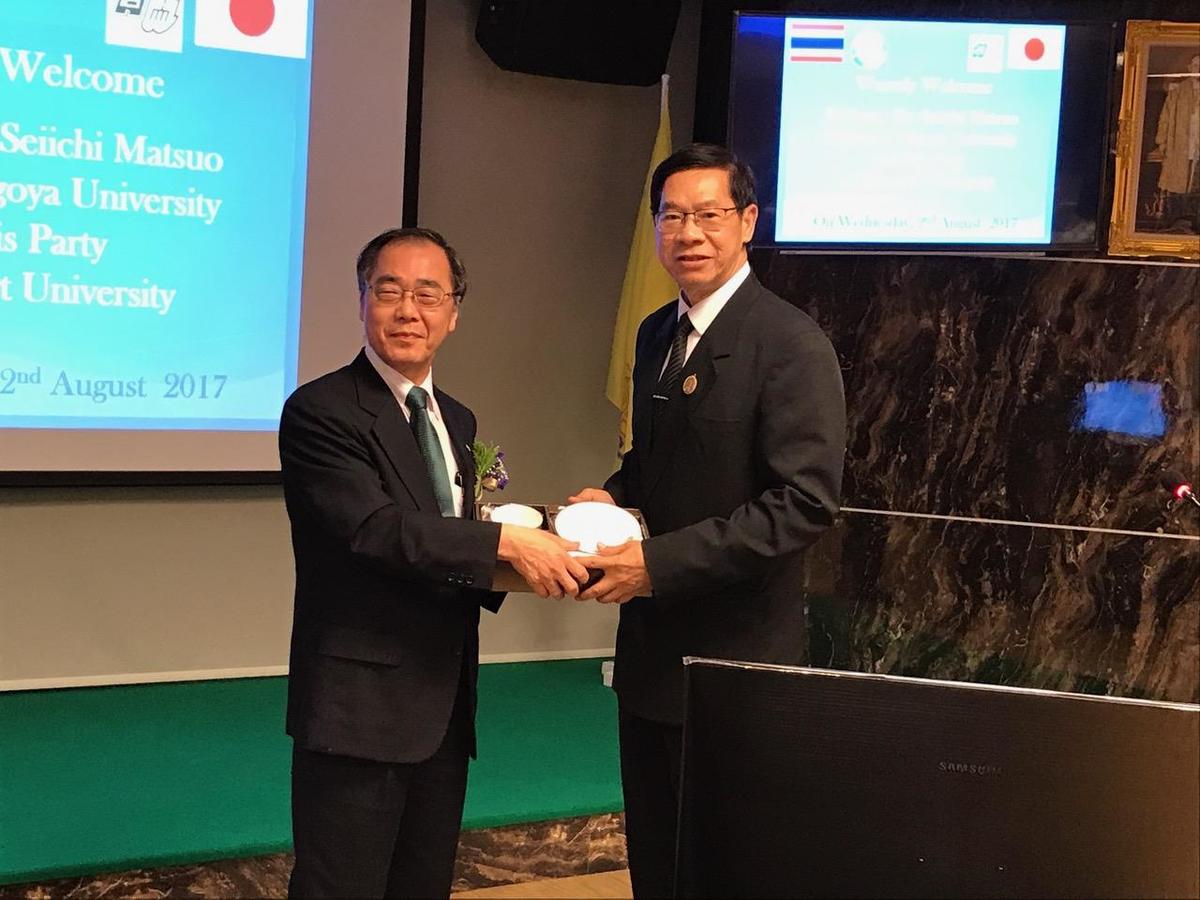 Kasetsart University professor Apinun Suprasert and Meidai president Seiichi Matsuo exchanging presents
A Meidai graduate student named Sirion Pitanuwat is one of the people I met at a Chulalongkorn University symposium. She is originally from that university's faculty of engineering. While still a student in a master's program there, she was invited to study at Meidai by designated professor Tetsunori Haraguchi from Meidai's Institute of Innovation for Future Society, whom she had met at an academic conference in the Netherlands. She decided to continue with PhD studies at Meidai. At first she knew no Japanese, but after studying the language for three months in Thailand she arrived in Nagoya. Having been strongly encouraged by a former teacher at her alma mater to learn Japanese, she took language classes at Meidai and also studied on her own. After spending two years for her PhD studies, today she is almost completely fluent in Japanese, and is a well-liked character, having been given the nickname of "On-chan." This time she was given part time work that included documenting a joint Chulalongkorn-Meidai symposium on automobiles, and she also made a poster presentation on hybrid engines, which is her own specialty topic. After obtaining a PhD she hopes to work for a Japanese company.
In the expanded international sphere we will discover others who want to come to Meidai. Those who end up coming here become proficient in the Japanese language and enjoy life in Japan. When I witnessed this cheerful On-chan who seems to be really enjoying what she's doing, I feel the desire to have more and more international students come here through the natural course of events. Women are a rarity in the engineering faculties of Japan, but it is wonderful to see so many women in Thailand and other countries being interested in engineering.
Either way, I am sure that On-chan will help to expand our human connections as a Meidai alumna.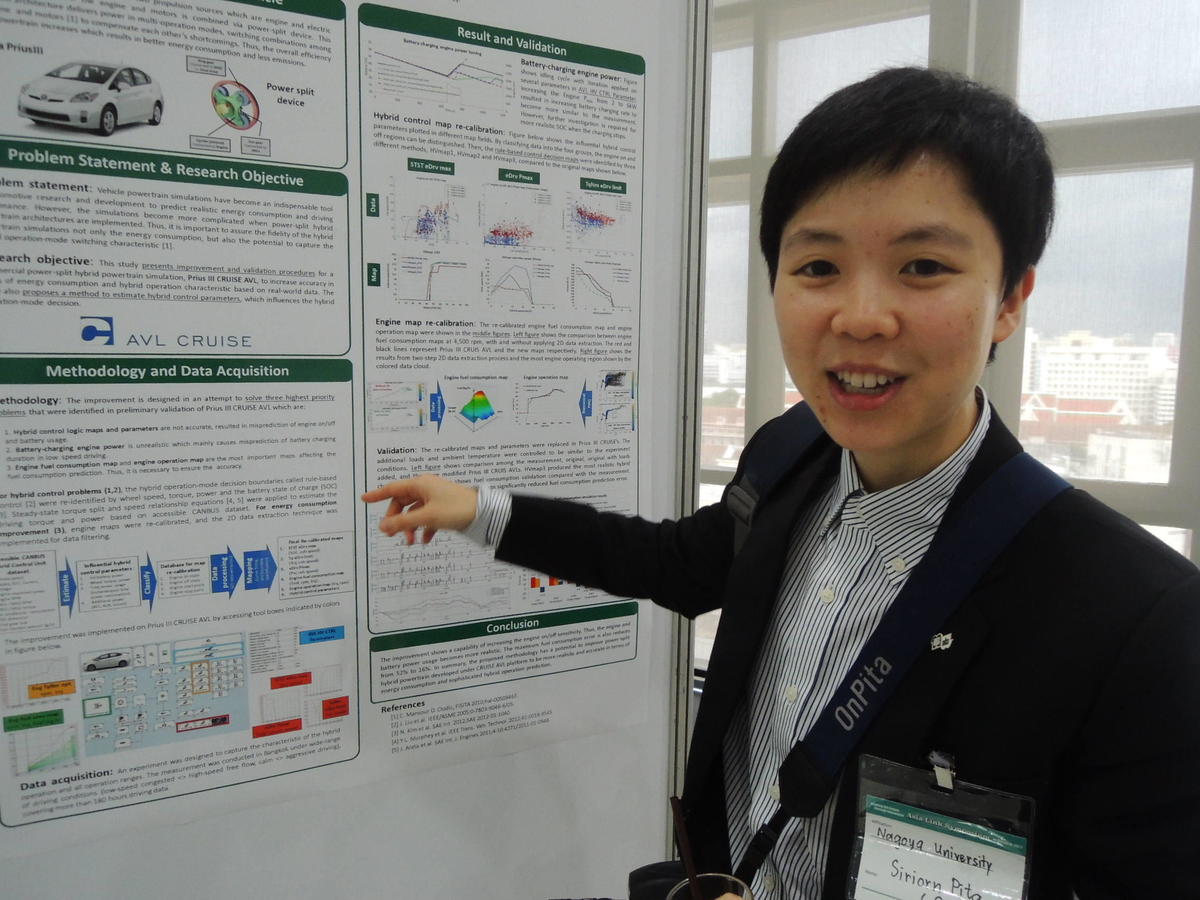 Sirion Pitanuwat making poster presentation about her research
I met another interesting alumnus in Thailand. It was Jun Noritake, a medical coordinator who greeted the Meidai delegation as a staff member of the Bangkok Hospital when we visited. He was a medical school peer of Hitoki Hasegawa, who happened to be with the visiting delegation from the Office of International Affairs of Meidai's Graduate School of Medicine.
Jun Noritake's story is quite unique. He graduated as an athlete from a university in Tokyo, and after having an injury hoped to work in sports medicine, so he went to the United States, a leader in the field. He studied in the science faculties at the University of Massachusetts and Boston University to advance to the faculty of medicine, and continued on to graduate school at Meidai's faculty of medicine. After obtaining his PhD, while he was working as a researcher in Japan, a Thai friend from his time at Boston University who was now managing an industrial park in Thailand asked him for advice on assistance for medical affairs.
It was Hitoki Hasegawa who he contacted. With help from Meidai's then-president Michinari Hamaguchi, who was at the time making an effort to strengthen relations with Asia, it was decided to promote cooperation between Meidai and Bangkok Hospital. That hospital has high medical standards, and it was actively expanding medical tourism to accept patients from other countries. At the time, Thailand was suffering from huge floods, and thinking that he would like to help his friend, and knowing that he liked the Thai atmosphere of being able to properly separate work from personal life, Jun Noritake says he decided to move to Thailand. After first studying the Thai language for half a year, he is now in his fourth year at Bangkok Hospital.
This medical collaboration started originally with helping a Thai friend. But there are many Japanese companies in Thailand, and medical collaboration between the two countries is very important for the Japanese who work there, when it comes to local medical care while they are in Thailand and after returning to Japan. In the automotive sector, there are also many companies from the Tokai region of Japan (this generally refers to Shizuoka, Aichi, Gifu and Mie prefectures, with Nagoya as the largest city). Having been from Meidai, he could connect with the Nagoya University Hospital and from there, with other hospitals in the Tokai region. He says he couldn't ask for anything better.
You never know what turns life will take. For Jun Noritake, Meidai was the key to developing a whole new role connecting Thailand and Japan.
I really look forward to hearing more stories about the activities of Meidai alumni all over the world.