The IEEE, with 420,000 members from over 160 countries, is the world's largest technical professional society and known throughout the field of technology across the globe. Founded under the name the Institute of Electrical and Electronics Engineers, Inc., the IEEE has come to encompass such a wide range of technical disciplines far beyond electrical and electronics engineering, from computer science to physics and bioscience, that it now calls itself simply the IEEE. Headquartered in the United States, it wields global influence as a setter of a wide range of international standards (the Wi-Fi standard being one of the well-known examples) and publisher of many professional journals. So the announcement that Toshio Fukuda, Professor Emeritus at Nagoya University, has been elected as the next President of the IEEE - the first ever Asian to head the organization - is big news. Fukuda is a pioneer in the field of robotics with a long track record of international work within and outside the IEEE and a network of contacts that stretches far and wide. Many admire his "extraordinary" drive and achievement. He personifies Meidai's tradition of free and vibrant academic culture. The overwhelming majority by which he won the presidential election is an indication of the huge expectations that IEEE members across the world have for him.
Fukuda studied mechanical engineering at Waseda University and received his Ph.D. from the Institute of Industrial Science (IIS) at the University of Tokyo. His Ph.D. supervisor, Professor Heki Shibata, was a man of enterprising spirit and laid the foundations of Fukuda's academic career. Sho Shibata, author of the award-winning novel "Saredo warera ga hibi (Anyway, That Was Our Time)", is Heki Shibata's younger brother. After working at various universities and research institutes in Japan and abroad, Fukuda joined Meidai's Faculty of Engineering as a professor in 1989. Since his mandatory retirement in 2013 after almost a quarter of a century teaching and researching at Meidai, he has been working as a professor at Meijo University and Beijing Institute of Technology. His research interests cover a whole gamut of robotics, from nanoscale robots to gigantic space robotic systems, and from robot monkeys to robots for the medical and care sectors.
Fukuda sees robotics research as a field "where you get to do a lot of thinking as it's down to you to imagine and create." For example, he once spent a lunch break playing by a moat and caught vorticellae and other microorganisms, which he examined under a microscope. He then decided to create a robotic hand that can catch these tiny creatures. This project expanded to research into micromanipulators and led to the development of robots for endovascular surgery simulations. When he scaled these robots down even further, his nanosensors and nanodevices opened up the field of nanotechnology. The origins of his robo-monkey, on the other hand, can be traced back to a time when he heard a talk about how dinosaurs walked. It got him interested how monkeys traveled through forests by swinging from branch to branch, so he made a robot that mimicked the action. The distinct way in which it moved made headlines worldwide, but it was really a material for research into learning and control. Another of Fukuda's creations is cellular robotics, where a large group of robots work together to function as a single mechanism.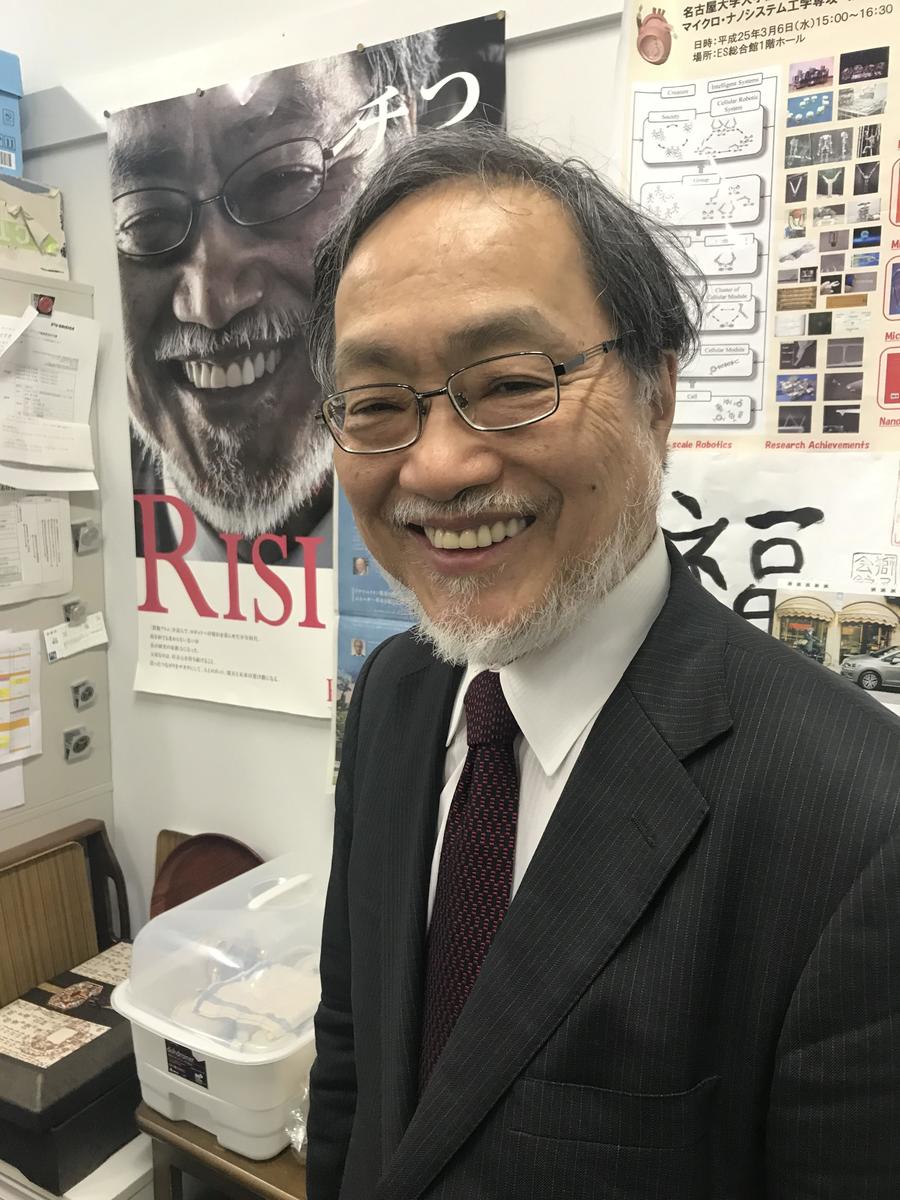 Professor Emeritus Toshio Fukuda. Born in Toyama, he likens his effort to promote his international conference to that of Toyama's traditional traveling medicine seller, visiting colleges across the US and Europe trying to drum up attendance.
It was a meeting with Professor Fumio Harashima of the IIS, whom he visited through Shibata's introduction, which inspired him to take his activities to the global stage. Harashima was a pioneer in the field of robotics and had an international profile, being active in the IEEE and other organizations. Fukuda and his team were studying robotics from a system design angle, which was a uniquely Japanese approach. However, there were very few opportunities to present their research back in the 1980s, as his research was very much outside the mainstream, both in Japan - where the main focus was industrial robots - and in the United States. Harashima suggested to Fukuda, who was desperate to find a forum where their Japanese efforts could be showcased, that he could simply organize his own international conference. He was in Hong Kong with Harashima to attend an IEEE-affiliated conference when this conversation took place. Still in his 30s, Fukuda was incredulous at the comment, but Harashima replied: "at the IEEE, your age doesn't matter - whoever wants to do something can just do it."
Spurred on, Fukuda began his tour of universities in the US and other countries and visited high-profile researchers to ask them to attend his conference. The following year in 1988, the inaugural International Conference on Intelligent Robots and Systems (IROS) was held jointly by the IEEE and the Robotics Society of Japan at the Tokyo University of Science, where Fukuda was an associate professor. Today, IROS is the leading international conference on intelligent robots, attracting more than 1,000 participants.
This was the start of Fukuda's increasing involvement in the IEEE. His stature grew as he took up more and more key positions in the organization, including the first ever non-American President of the IEEE Robotics and Automation Society. He has learned that, "at the IEEE, you can do anything regardless of your race, affiliation, age or gender simply by being proactive in getting your new idea off the ground and convincing others that it works."
And now, he has reached the top of the mountain.
The IEEE's roots can be traced back to 1884, when a group of electrical engineers gathered in New York and founded the American Institute of Electrical Engineers (AIEE). Electricity was powering social transformation at that time, and the AIEE boasted some prominent figures among its members, including Thomas Edison and Alexander Graham Bell. Later in the early 20th century, radio engineers formed a rival organization, the Institute of Radio Engineers (IRE), whose scope gradually expanded to the field of electronics. The two institutes eventually merged in 1963 and became the Institute of Electrical and Electronics Engineers. The merger created an organization of some 150,000 members, 140,000 of whom were US residents. Today, the IEEE has around 420,000 members, and more than half of them live outside the US. The IEEE is dedicated to advancing technology for the benefit of humanity.
With an annual budget of 48 billion yen, it is a mammoth organization. 70 to 80 percent of its revenues come from the 200 or so professional journals it publishes and more than 1,800 conferences it organizes. The proceeds are used to fund its various activities, an important one of which is the setting of technical standards; over 1,300 have been published, and more than 600 are currently in preparation. 1,200-strong staff work at its New York headquarters.
In the presidential election held in 2018 autumn, three candidates stood. The other two candidates were nominated by the Board of Directors, while Fukuda, who failed to secure the board's backing, won his nomination by members' petition. In his candidature statement, he said that he "would like to make efforts to increase IEEE membership in the world and make the IEEE a more comfortable 'Home' for everybody to stay in IEEE." His pledge included improving financial transparency and revising membership fees.
Voting took place over the internet, and Fukuda received 20,865 votes, comfortably beating other candidates with a majority of over 5,000 votes. Fukuda's clear "members first" stance seems to have won popular support at the time when key figures at the headquarters and officers selected by members were at loggerheads over the direction of the organization.
There has only been one other non-American president - a Brazilian - in the history of the IEEE, but perhaps the time was ripe for a first Asian president as the presence of Asian countries such as Japan, Korea, Taiwan and China is increasing in the electronics sector.

Whatever the background, there is no denying that it is a spectacular achievement.
Hiroyuki Sakaki, President of Toyota Technological Institute, praises Fukuda as a singular achiever: "it is very hard to dedicate yourself to research and education while at the same time running a massive organization. Most people would choose one or the other, but Professor Fukuda has overcome the challenge by sheer determination and drive."
Michinari Hamaguchi, former President of Nagoya University and now the President of the Japan Science and Technology Agency, laughs that, with all the traveling around the world that they do, he is more likely to bump into Fukuda at Incheon Airport in Korea than on campus. Hamaguchi recalls the time when he was utterly impressed by Fukuda's unique ability to spot academic talents. It was at a committee tasked with selecting young researchers from across the university based on the assessment of their presentations. It turned out that Fukuda's evaluation was almost always spot on.
This ability has made Fukuda's laboratory an ideal incubator of researchers, and Fukuda beams as he reports that he has celebrated his 101st Ph.D. recipient. On my visit at his laboratory, the first thing he shows me is a mandala*-like poster of faces, of all the doctors who are Fukuda lab alumni (*mandala: a visual representation of the Buddhist universe).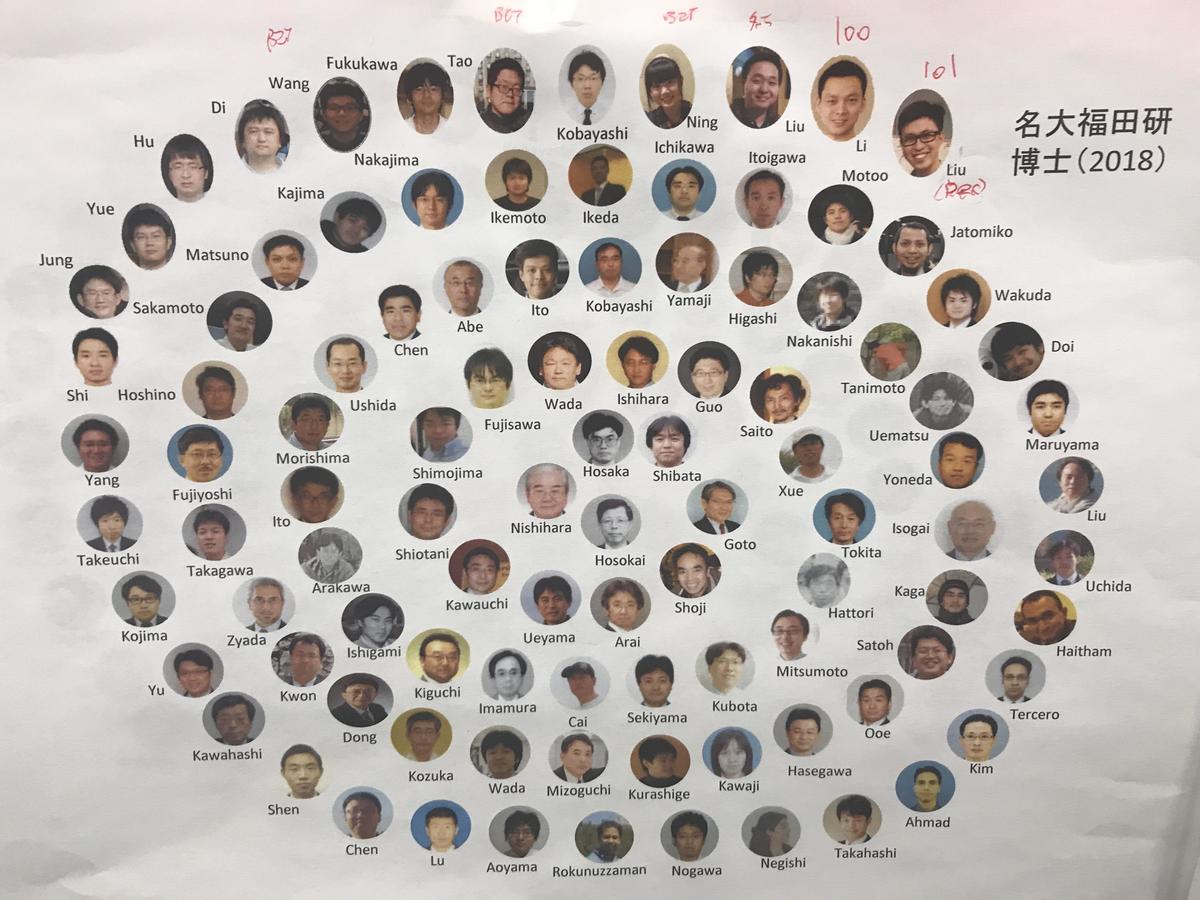 The faces of all the Ph.D. graduates from the Fukuda laboratory are arranged in a whorl.
The recent IEEE elections produced another Asian first: Professor Kazuhiro Kosuge, a robotics researcher at Tohoku University, who has been elected as Vice President for Technical Activities, one of the most important roles in the organization.
Kosuge also has a Meidai connection; before joining Tohoku University, he was an associate professor at the Fukuda lab. A graduate of the Tokyo Institute of Technology, his breakthrough came when he moved to Meidai in 1990. Previously, he was a researcher at a MIT laboratory and had little interest in professional societies, the prevailing attitude at the MIT being that such activities were beneath serious academics. It was under Fukuda's lead that Kosuge became more and more involved in the IEEE and other international organizations. It opened his eyes to the appeal of these activities and depth of their potential. In these global organizations, where people with different backgrounds and approaches gather and work together, he learned how consensus could be formed and decisions could be made despite these differences. He says it expanded his perspective and taught him what it meant to be truly global.
Even though he enjoyed working at Meidai and its emphasis on active industry engagement, he decided to leave Nagoya after five years to take up the professor position offered by Tohoku University, which would give him more freedom to pursue his research interests.
Even after the move, he continued expanding his involvement in the IEEE, as if taking cues from Fukuda. His achievements during his tenure as the president of one of the IEEE societies, including a massive increase in its membership, have led to his nomination as a candidate in the election of Vice President for Technical Activities.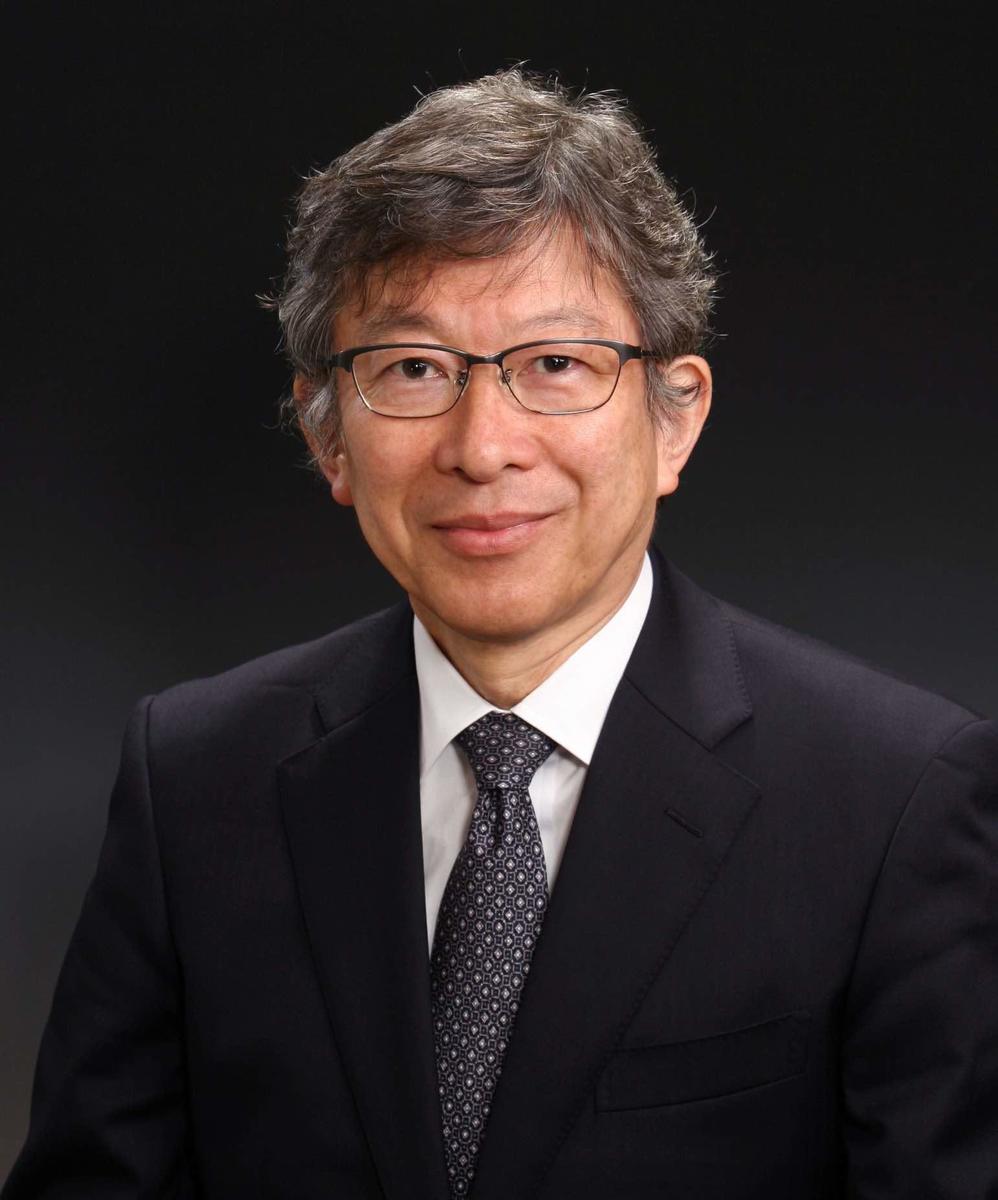 Professor Kazuhiro Kosuge of the School of Engineering at Tohoku University focuses on the development of robots that work in harmony with humans as partners. One of the examples is his ballroom dancing robot, which demonstrated its graceful moves at the
Harashima, a pioneer in the Japanese involvement in the IEEE who persuaded the young and frustrated Fukuda to take to the global stage, is pleased with the news that his fellow robotics researchers have been elected as the President and a key Vice President. "I have been working with the IEEE for more than 40 years, and this feels like a reward for all these years of struggle and joy. I'm sure they will make their mark as global leaders in electric and electronics engineering," he says. "Some say that the standard of science and technology in Japan is going down, but we do have people like them, who share global values and are doing amazing work. Japan is hindered by the inward-looking value standards that have a sway only in Japan, as you can see with the amount of Kakenhi grants (Grants-in-Aid for Scientific Research) and the role of government committee members. If these things start to change, then Japan will be fine. If not, we could really be left behind."
Fukuda and Kosuge become the President-Elect and Vice President-Elect respectively in 2019, before officially assuming their positions and getting down to the work in 2020. During the 1-year term, Fukuda aims to double the IEEE's membership to one million by reducing the membership fee for those joining from developing countries and boosting industry members as well as encouraging wider participation of youths and women. This is an ambitious target at a time when professional and academic organizations across the world, including Japan, are facing a general decline in membership and their value is called into question. Fukuda's vision is to make the IEEE a place where members from the same region can meet face to face, exchange ideas and experiences, and help each other grow. Another of his ambitions is the establishment of the IEEE University to make use of the expertise accumulated within the organization over the years.
Kosuge also says that he would like to create an environment that promotes wider member participation in the IEEE's activities, through which the organization can fulfill its mission of advancing technology for the benefit of humanity. He calls on young Japanese academics to follow his and Fukuda's footsteps and get involved in global activities, which he believes would enable them to see things objectively and be aware of what is good and bad about Japan.
It is thrilling to see two researchers who once shared a laboratory at Meidai as professor and associate professor becoming global leaders in the field of technology. I wish them all the best for their success.